Carthage Middle-Schooler Revived on Football Field; Wants to Meet His Lifesavers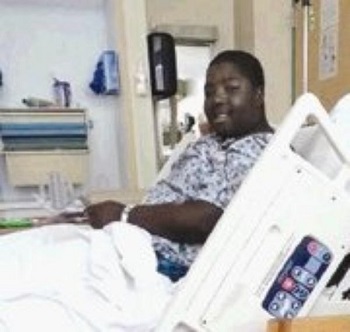 CARTHAGE — A Carthage middle school football player who collapsed on the field Thursday night in Henderson says he wants to meet the people who saved his life.
Jasabira Pope's mother, Laquittequa Jernigan, said he doesn't remember much about what happened. He woke up wondering what was going on, she said. But she said she will never forget and the scene is still replaying in her mind.
Jernigan said she saw members of the team running onto the field and wondered what was going on. She then saw players take a knee, and someone told her something was wrong with her son.
Jernigan immediately ran onto the field.
"(Jasabira) was there for like three minutes before they finally revived him and got him back to breathing," she said. "It's hard, but at the same time, it's a blessing to me because my child got a second shot at life."
When Jasabira found out what happened to him, he asked, "Mom, can I meet the guy that saved my life?"
Jernigan is on a mission to grant her son's request.
She said someone tagged her in a Facebook post that showed Henderson ISD athletic trainer Colby Barron was recognized by the district for reviving Jasabira.
According to the Henderson ISD Facebook page, "His quick response and preparedness, for emergencies such as these likely played a large part in saving his life! Our appreciation for his knowledge and training cannot be overstated!"
Jernigan said she's also learned that Henderson firefighters, working with Barron, helped save her son's life by using an automated external defibrillator, or AED, on him and performing CPR.
Jernigan said she saw the post about Barron and knew it was him.
"I won't ever forget his face," she said. "I appreciate him so much. Words can't say at all. I'm so thankful for him, because if it wasn't for him, (Jasabira) probably wouldn't be here right now. Words can't even explain how thankful I am for him being there."
She said she was told Jasabira won't be able to participate in school-organized athletics and doctors called what happened to her son "sudden cardiac death."
"They said his heart just stopped," she said. "This is just something that happened out of nowhere."
Jasabira will be transferred soon to Texas Children's Hospital in Dallas, where he will undergo surgery for a defibrillator so it can shock his heart if it stops again.
---
Story Credit: https://www.news-journal.com/news/2017/oct/07/carthage-middle-schooler-revived-on-football-field/