Brainerd High Hosts Sportsmanship, AED Training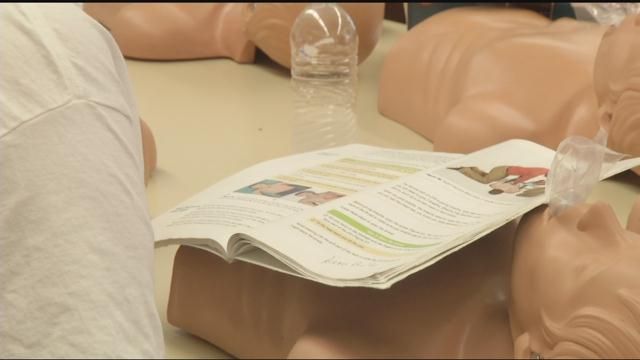 Saturday was a busy day on the court at Brainerd High School for both students and coaches.
"Simply because Javon Craddock should still be alive and here," Brained Head Basketball Coach Levar Brown said.
Two weeks ago, Tyner basketball player Javon Craddock died suddenly after playing basketball.
"He always had a smile on his face. He was probably one of the best basketball players in this state. It was definitely the best shooter in the state," Brown said.
Coaches want to make sure they have all the training possible to help prevent another tragedy.
"We feel like that if we were better trained, we could handle those situations a little bit better. We don't want to lose any more young people because of lack of training or lack of certification," Brown added.
Twenty coaches in Hamilton County are getting free AED and CPR training. They are being taught how to help someone having sudden cardiac arrest.
It's training that isn't required.
"This is the first step," Brown explained. "I feel like it's probably the most important step just to show that we are recognizing where we need to be and we're trying our best to get there."
Lifesaving skills they can use to make sure athletes are in good hands.
"It's important to at least have that assurance that I know how to respond when it's time to respond," Brown added. "Hopefully, I don't have to respond, just to have that assurance that we can if we need to."
While coaches were getting medical training, students were also getting a lesson in sportsmanship.
Roughly 20 students from Austin East High School out of Knoxville met with Brainerd High Students.
You may remember the two teams were reprimanded by the TSSAA in February for a major fight that broke out during a game.
"We want the TSSAA to reconsider the probation they put us on. We know there's some things that need to change, but we also know these young men work really hard, and they should have something to look forward to at the end of the season," Austin East Executive Principal Nathan Langlois said.
The players heard from college athletes about sportsmanship and even played a few games.
---
Story Credit: http://www.wrcbtv.com/story/38334329/brainerd-high-hosts-sportsmanship-aed-training