Neighbour Saves Boy, 11, Who Was 'Minutes from Death' after Collapsing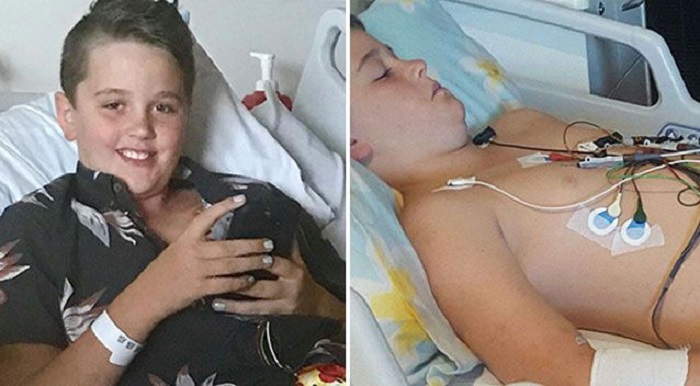 A Queensland mum, with help from her neighbour, has managed to save the life of an 11-year-old boy who went into cardiac arrest.
Keli Martin, a personal trainer in Kingscliff, was exercising outside her home with her daughter Indiana, 10, and neighbour, Harry Stewart, 11, on December 30 about 6.45am.
"He was trying to get fit – the days before, Harry and Indiana were having sprint races," Ms Martin said.
"They're always playing together – kicking a soccer ball around and having fun. We weren't doing anything heavy duty. We must have been working out for about 30 minutes."
Harry's mum, Alison Pratt, said for two years the family had been travelling backwards and forwards between Lady Cilento Children's Hospital and the Sunshine Coast to diagnose a heart condition Harry was having problems with.
"We got a loop recorder inserted in Harry's heart," she said.
"It records everything but we still couldn't figure out the problem. He's collapsed before and we couldn't get a diagnosis."
She also learned CPR to help her son.
But on the second-last day of 2017 Harry began to stumble as he ran up the hill while playing with Indiana.
Ms Martin said the boy began to turn grey and she rushed over to help him.
"He began to collapse and I helped him to the ground," she said.
"He vomited, and I got Indiana to run over to get Harry's mum while I yelled for help."
Harry's mum soon arrived, watching in horror as her son went into cardiac arrest. Ms Martin said the situation was "chaotic". Ms Pratt added it was "super stressful".
Luckily, another neighbour soon showed up to help. Sue Spence, who knows CPR, arrived and along with Ms Martin they began to perform CPR.
Ms Martin did compression on the boy's chest, while Ms Martin gave Harry the breath of life.
"It was pretty hectic, you're in such a state of panic," Mr Martin said.
"But Sue was very composed – she focused on just me and Harry."
The personal trainer said it "felt forever" until the ambulance arrived. She said no one knows why Harry had an episode, but is relieved he's now OK.
"He's great," she said.
"He's got a pacemaker and defibrillator now."
Harry's mum said he's since been diagnosed with non-genetic CPVT characterised by an abnormal heart rhythm. According to the British Heart Foundation, symptoms include blackouts and dizziness.
The recommended treatment for anyone who goes into cardiac arrest is to perform CPR.
The 11-year-old is fortunate both the women who came to help him knew CPR.
Ms Martin said she learned a CPR course 12-18 months ago as part of learning first aid for her profession. Ms Spence did one locally six months ago.
His mum said it is "so important" to know CPR.
"It's not like in movies," Ms Martin said.
"You don't know where to put your hands – if I hadn't done the course, I wouldn't have had a clue. It's very scary."
---
Story Credit: https://au.news.yahoo.com/a/38655840/kingscliff-woman-performs-cpr-to-save-boy-11-after-collapse/