Basketball Player Takes Screening to Heart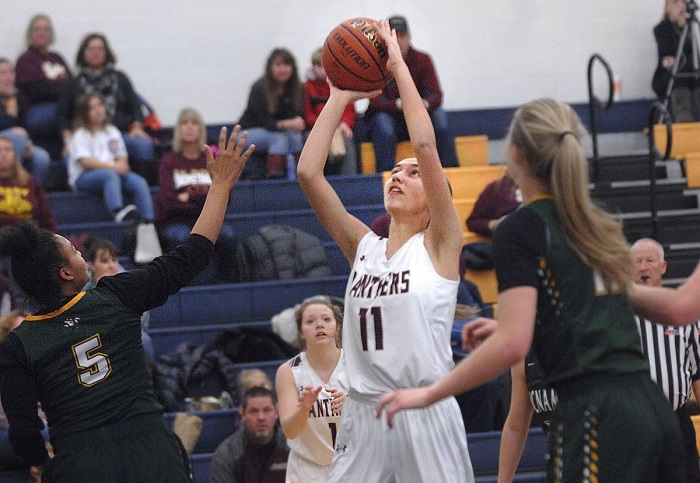 LEROY — Cara Levingston felt fine when it was her turn to undergo a free heart screening at LeRoy High School in October 2016.
Fine, however, became apprehension when she learned there were two holes in her heart.
The good news was she could safely finish the 2016-17 basketball season. The bad news was she would need open heart surgery in April.
"I can't imagine what her parents (Glenn and Vicki) felt like," said Coach Danielle Cooley. "At one point I received a text from her dad that said 'they are getting ready to take her off the bypass.' That moment when you are hoping her heart kicks back on, it was overwhelming for me and it wasn't even my kid."
LeRoy offers Young Hearts for Life screenings for seventh through 12th graders thanks to the advocacy of Joe and Nikki Egan, whose son Ty collapsed on a football field in October 2011 at age 8.
He had no pulse, but was revived by an ambulance crew and four nurses who happened to be onsite. He has bounced back to become a LeRoy freshman golfer and basketball player, who plans to play baseball next spring.
"We can't thank the Egan family enough for advocating for this to come to our school," Cooley said.
Levingston's mother seconds that sentiment.
"We are forever grateful that this Young Hearts for Life has come into our school and that they were able to detect this," Vicki Levingston said.
Without the screening, a child could overexert their heart and die or run into heart issues later in life. Besides the 16-year-old Levingston, two other LeRoy students were found to have abnormalities.
Levingston credits her parents for being calm and positive throughout.
"I was pretty relaxed and calm about it until a few minutes before surgery," she admits. "Besides that, I was always kind of positive like 'we'll get through this and life is good.'"
Other Pantagraph area schools offering periodic screenings include Bloomington, Normal West, Central Catholic, University High, Eureka, Fieldcrest, Olympia, El Paso-Gridley, Clinton, Lexington, Prairie Central and Pontiac.
A week after surgery, Levingston returned to school. Seven weeks after that, she resumed exercise. By August, she was back on the volleyball team.
"The heart itself was healed within a few days, but since it was an open-heart procedure, they had to break the sternum. It took eight weeks for that to heal," said Levingston, a 6-foot-1 middle blocker who earned all-Heart of Illinois Conference honorable mention.
No one suggested Levingston retire from sports, but some still worried about her.
"I'll be very honest, when we found out that she had two holes in her heart and she was still cleared to play, I was very apprehensive and asking a lot of questions," said Cooley, who wanted to know what trouble signs to look for.
As for Levingston, she can't imagine life without sports.
"I've done sports for as long as I can remember," she said. "I was part of a YMCA basketball team as early as first grade."
She later added volleyball, track and softball. Nowadays she focuses on volleyball and basketball, both of which she's on pace to become a four-time letterwinner in.
"It's nice to be a part of the team and have fun with competition, too," she said. "(Teammates) have been very supportive throughout the whole (heart) experience. They sent me a huge gift basket after I had surgery."
A basketball starter a year ago, Levingston is nursing an ankle injury suffered during volleyball season. She has averaged 4.0 points off the bench in seven games for the Panthers, who were 3-10 after Thursday's 72-29 loss to Kankakee McNamara in the State Farm Holiday Classic.
"We're very grateful that she has been able to bounce back and help us out," said Cooley, who expects Levingston to start once her ankle recovers. "I would say volleyball is her best sport right now, but she could be a game changer for us."
In that regard, Levingston has a lot in common with heart screenings.
---
Story Credit: http://www.pantagraph.com/sports/high-school/basketball/girls/levingston-proof-heart-screenings-worthwhile/article_e18a1de9-b6a4-57f5-a1ca-e08039bb3e06.html