Ballymahon VS Students Get To 'The Heart Of The Matter'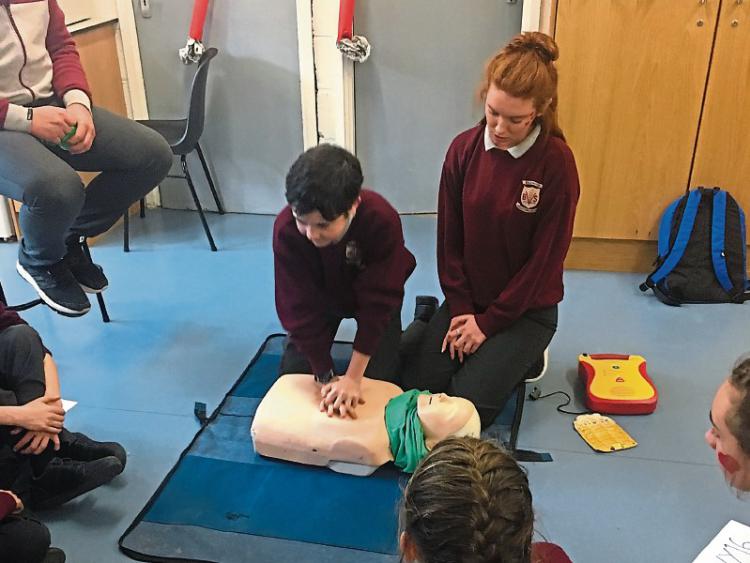 Three students from Ballymahon Vocational School are getting to 'The Heart of the Matter' for the annual BT Young Scientist and Technology exhibition.
Students Emma Kearney, Sarah McCormack and Ciara Moughty, aided by teacher Ms Sinead Mulcahy, will exhibit their topical project 'Defib Demo – The Heart of the Matter' at the upcoming exhibition at the RDS in Dublin.
"Originally the main aim for our project was to develop and design an educational programme for GAA players, parents, and coaches on how to use a defibrillator correctly and efficiently as we didn't feel the audio steps were efficient enough," the girls explained. "Back in April of 2016 a young girl of 14 collapsed and died after a GAA training session. This was a shock to not only to her own club and county, but to our club as well, as we were all similar in age and we are part of the LGFA too."
Knowing that this was not a unique case, the girls did their research and found that according to the HSE, 5,000 SCDs (Sudden Cardiac Deaths) occur each year. They also pointed out that survival rates following a cardiac arrest at any age are directly related to the time taken to resuscitate and particularly defibrillate.
"Automated external defibrillators (AEDs) have been proven to be of extreme benefit in increasing the chances of survival from sudden cardiac arrest. So after reading all of this we decided there definitely was a need for Defib awareness and we got a survey underway to gather some info on how much and what people knew about this topic," the young scientists added.
"We handed out the surveys to the first, second and fifth year students, and we obtained some very interesting results.
"We were shocked to see that 0% of the first year students were aware of the location of the defibrillator in our school. 90% of the candidates admitted that they do not know how to use a defibrillator and 97% of the candidates admitted they would be interested in learning more about a defibrillator and how to use one. After analysing these results we altered our original plan slightly.
"We decided we would organise a Defib day in our school for all students and not just students who play GAA. We also made a phone call to the Irish Heart Foundation about our plan, to see if they could offer us any advice and ideas."
After a recommendation from the foundation, the girls also included CPR in the event, which took place on Thursday, December 1 at the school. The students participated in a number  of fun and beneficial activities that helped to increase their awareness on a number of lifesaving skills.
Along with Ms Mulcahy, the girls came up with seven main aims for the day; That students would know where the defibrillator at the school is located; that students would understand what the AED symbol stands for; to highlight the location of three defibrillators close to each students' locality; to know how and when to perform CPR; to know the postcode for the school and understand the necessity of the postcode for ambulances in an emergency situation; to ensure that students and their families are aware of their own postcode; and to know how to efficiently perform an emergency phone call on every iPhone or smartphone.
"We wanted to take the fear out of saving a life," the students stated. "Also we were very privileged on the day to have Cathal Joyce speak to the students about his Sudden Cardiac Arrest experience. He spoke the students about how CPR and the use of a defibrillator saved his life last year and emphasised the importance of understanding and knowing these life skills.
"The day was a massive success and we were very pleased with the results we obtained. We made a new updated survey to include questions on CPR and we handed this survey out to each student before and after the day."
"The results we received were very conclusive and definitely highlighted to us that our day had been a success."
In fact, the school have now decided to host an annual CPR and Defib day in the school, while the three students leading the project are in the process of designing CPR and Defib packs that can be distributed to other schools.
"We are very excited about our trip to the RDS in Dublin where will compete against 500 other schools," they added. "We hope to spread more awareness and emphasise the importance of CPR and Defib training in schools.
"We would also like to take this opportunity to thank a number of people; firstly our teacher Ms Mulcahy, who has guided us and supported us from the very start. Our project would not have been possible without her.
"We want to extend a massive thank you to Darren Mulleady and the Ballymahon CPR and Defibrillator group for taking the time out to show us how to perform CPR and how to use a defibrillator; and also for providing us with the equipment we needed to complete the project.
"We also want to thank Cathal Joyce who travelled to us on December 1, to speak to the students about his very own scary experience which was an eye-opener for all who attended.
"Finally, we would like to thank our school Principal, Ms Johnston, and all the staff who are supporting us throughout the whole experience, especially Ms O'Reilly and the Art department, who are very busy helping us as we get our display ready for January!"
---
Story Credit: http://www.longfordleader.ie/news/home/229704/ballymahon-vs-students-get-to-the-heart-of-the-matter.html