Automated Chest Compression Devices: 10 Things You Need To Know To Save Lives
Knowing how and when to use these devices could save lives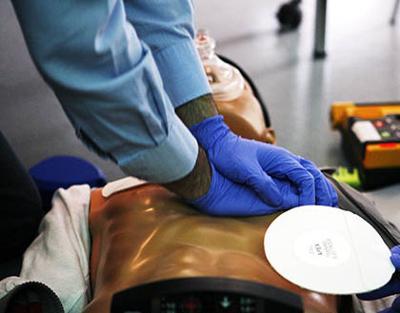 Automatic CPR devices have been available for several decades now, yet they haven't received widespread acceptance as the standard of care for cardiac arrest management. Here are 10 things you need to know about automatic CPR devices:
1. The jury's still out on the science behind mechanical compression.
Studies have shown mixed results regarding the effectiveness of automatic CPR devices for the treatment of cardiac arrest. A 2013 meta-analysis found the odds of a return of spontaneous circulation to be 1.6 times greater with automatic CPR device use instead of manual compression [1]. These findings were contradicted a few years later by another meta-analysis, which concluded: "evidence does not support a routine strategy of mechanical CPR to improve survival or neurologic outcome."[2] The American Heart Association acknowledges a lack of strong evidence in support of automatic CPR devices , but recommends their use when high quality, continuous chest compressions are unsafe or impractical.[3]
2. Evolving evidence points toward the importance of high-quality, uninterrupted chest compressions.
Over the last several changes in AHA guidelines, an increasing emphasis has been placed on high quality chest compressions. Although automatic CPR device use is not settled science, what is not contested is that patient outcomes improve when interruptions in compressions are minimized.[4] The automatic CPR device does not suffer from human shortfalls such as fatigue, distraction, and loss of balance, and can be a powerful aid to the field provider during situations where compressions might otherwise be ineffective or interrupted.
3. Battery and Pneumatic options are available.
Depending on your unique system needs, automatic CPR devices are available in both battery operated and pneumatic powered options. One popular product on the market runs on oxygen or medical air at 50-90 PSI consuming around 45 liters per minute. Battery operated automatic CPR devices typically advertise a run time of 30-45 minutes depending on the manufacturer, with some devices utilizing commonly available cardiac monitor batteries.
4. Automatic CPR devices are quick to deploy.
Deployment of an automatic CPR device need not be complicated or time consuming. Quick deployment does require regular practice, especially if real-life deployment is infrequent. One study evaluating the application of two popular mechanical CPR devices found a 12 to 19 second average delay in compressions.[5] This delay in chest compressions is a fraction of the typical delay caused by paramedic intubation attempts during prehospital cardiac arrest management.[6]
5. Automatic CPR devices allow you to run a code with fewer people.
To effectively deliver high quality manual chest compressions, physically fit personnel must be available in enough quantity to rotate through the role of compressor before exhaustion causes compression speed and depth to suffer. Rural and urban systems alike are affected by low system levels, or simple budgetary constraints reducing the number of personnel available for response. When utilizing an automatic CPR device, a unit consisting of two EMS providers can potentially run an entire cardiac arrest with the similar effectiveness of a larger crew if conditions necessitate such a limited response.
6. Automatic CPR devices allow you to run a code in tighter quarters.
Cardiac arrest patients can collapse anywhere: in the space between the toilet and the bathtub, or between the wall and the 600 lb. solid oak bedframe. When quarters are tight, automatic CPR devices allow crews to work a code more effectively with less available space.
7. Automatic CPR devices allow you to focus on other important things.
Even with enough personnel available on scene, their skills may be put to better use searching for clues pointing to reversible causes of the arrest. It may take a trained eye to notice that the patient has been taking their spouse's spironolactone along with their own lisinopril. Critical details can easily go undiscovered when personnel are preoccupied with other consuming tasks.
8. Automatic CPR devices improve safety during transport.
CPR in a moving ambulance is dangerous and ineffective. As demonstrated in a video created by Las Vegas Fire, compressions are frequently interrupted or performed one-handed as unrestrained providers brace themselves against the g-forces associated with an emergency transport.[7] Similar to a stair chair or power stretcher, an automatic CPR device could pay for itself with the first serious injury prevented by allowing personnel to remain seated, seat belted, and safe, if protocol or patient condition necessitates performing CPR during transport.
9. You can intubate with an automatic CPR device activated.
Agostinucci et al studied the impact of automatic CPR devices on intubation conditions, and found no significant difference in the time taken to intubate a patient when compared to manual compressions.[8] While endotracheal intubation continues to be a cause of compression interruption, automatic CPR device use does not appear to affect the procedure either positively or negatively.
10. Automatic CPR devices can do more than just compressions.
Securing the patient's arms during a move from the scene to the ambulance is a perpetual afterthought in cardiac arrest management, risking injury to both the patient and EMS providers as loose appendages become snagged on door frames and other obstructions. One available product addresses this problem with a set of integrated arm restraints. Another device resolves the frequent problem of accidental hyperventilation of the cardiac arrest patient by providing a built in ventilator.
---
References
1.Westfall M, Krantz S, Mullin C, et al. Mechanical versus manual chest compressions in out-of-hospital cardiac arrest: a meta-analysis, 2013. Critical Care Med 2013 Jul;41(7):1782-9.
2. Bonnes JL, Brouwer MA, Navarese EP, et al. Manual Cardiopulmonary Resuscitation Versus CPR Including a Mechanical Chest Compression Device in Out-of-Hospital Cardiac Arrest: A Comprehensive Meta-analysis From Randomized and Observational Studies, 2016. Ann Emerg Med 2016 Mar;67(3):349-360.e3.
3. International Liaison Committee On Resuscitation. Mechanical CPR devices. Retrieved from: https://volunteer.heart.org/apps/pico/Pages/PublicComment.aspx?q=782
4. Kellum MJ, Kennedy KW, Ewy GA. Cardiocerebral resuscitation improves survival of patients with out-of-hospital cardiac arrest, 2006. Am J Med 2006 Apr;119(4):335-40.
5. Caruana E, Gauss T, Josseaume J, et al. Hands-up time to set up two different mechanical chest compression devices, 2013. Ann Emerg Med 2013;62(4s):p.S143. Abstract 397.
6. Wang HE, Simeone SJ, Weaver MD, et al. Interruptions in Cardiopulmonary Resuscitation from Paramedic Endotracheal Intubation, 2008. Ann Emerg Med 2009;54(5):p:645-652.e1.
7. Las Vegas Fire & Rescue. Las Vegas Ambulance Safety and the Autopulse. Retrieved from https://youtu.be/6kwr6tqzcfA.
8. Augostinucci JM, Reuter PG, Galinski M, et al. Impact of the use of Autopulse® on intubation conditions in cardiac arrest patients, 2014. J of Euro Resus Council 2014 May; Vol. 85 Suppl. 1 P S53.
---
Story Credit: https://www.ems1.com/ems-products/Mobile-Data/articles/233994048-Automated-chest-compression-devices-10-things-you-need-to-know-to-save-lives/