Late Archer High School Student's Heart Continues to Beat Through His Foundation: Smiling Hearts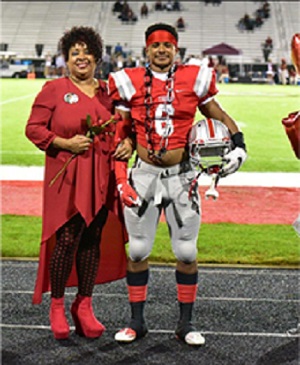 "I'm not much of a traveler, but I'd sure would like to go to heaven," These are the prophetic words spoken by Nick Blakely just a few hours before his sudden passing from the #1 killer of student-athletes, Sudden Cardiac Arrest (SCA), according to the Centers for Disease Control (CDC).
Nick Blakley, was a 19-year-old student Stetson University football player and a 2016 graduate of Archer High School. On Aug. 28, 2017 Nick complained of feeling dizzy during practice. He was sidelined by the coach when he collapsed and later died at the hospital. Unbeknownst to Nick, his family, or his coaches, he had an enlarged heart, which led to SCA, his ultimate cause of death.
Nick had always received a clean bill of health from his physical exams. After all, he had been playing football since he was 6 years old. Try to imagine his mother, Michelle Fields Wilson's shock when she received a phone call from his coach saying Nick had a seizure. "All I was thinking was how was how am I going to get to him. Before I had to chance to begin packing, I got another call from the doctor at the hospital. Nick did not have a seizure; he went into cardiac arrest."
Wilson took a therapeutic approach to Nick's passing and by September she founded Smiling Hearts: The Nick Blakely Foundation. The Smiling Hearts foundation is aggressively working to educate parents and children, athletes, coaches, trainers, and athletic associations about the signs and danger of SCA. Wilson's goal is to raise awareness about SCA and to make heart screenings mandatory for all student-athletes from middle school to high school. "We want to help pay for heart screenings because they can be expensive," added Wilson.
"Nick was healthy. He had no signs of anything, but if they had known that dizziness was a sign of SCA they could have gotten him to a doctor. They didn't know dizziness was a sign," she said.
In December, Gwinnett County Representatives David Clark and Joyce Chandler met to discuss the Nick Blakely Jeremy Nelson Sudden Cardiac Arrest Prevention Act. This bill seeks to raise awareness about sudden cardiac arrest and is similar to H.R. 2360 Concussion Awareness & Education Act of 2017. The bill is expected to become law by spring 2018.
Since February is American Heart Month, this is the perfect time to raise awareness about SCA and the Smiling Hearts Foundation.
Donations made to the foundation will go towards a scholarship to a deserving high school student who embodies some the same character traits as Nick, someone with a big smile who loves the Lord, a good student, a good athlete, and cares about others. "He loved to live to please the Lord, said Wilson." The first recipient of the Smiling Hearts Foundation scholarship will be awarded in March. More details about the scholarship criteria can be found on the Smiling Hearts website: www.nickblakelyfoundation.org.
Archer High School awarded the Nick Blakely scholarship to their first recipient in January and the Gwinnett Football League also offered an award to a deserving student in Nick's honor last fall.
"I don't have a favorite memory of him. I just like that I got to see him every day," said Archer High School Varsity Defensive Coordinator, Coach Joel Bridges.
"Whenever you saw him you knew you were going to get a smile, a fist bump or a hug. He was really warm and rarely down because he lifted everyone up," he added.
Coach Bridges said they are not doing anything different in their football program at Archer since Nick's passing, but he adds they do have professional trainers at their practices every day.
Trainers who work with the Gwinnett Football League (GFL), a recreational age-based and grade-based football league are trained annually by Gwinnett Medical Center, according to Secretary, Patsy Jones. She adds they started encouraging athletes to get the heart screenings after another student-athlete died at Shiloh High School a few years ago.
Coach Bridges wants to remind people that SCA is not exclusive to football. It can happen in anything that raises your heart rate. According to the CDC, 1 in 300 students has an undetected heart condition putting them at risk for SCA.
"I think we have seen it more often in basketball perhaps because of the constant running. People must be aware of SCA just like they were with concussions, and dehydration in sports," he adds.
The more people know about SCA the less likely another athlete is to die from the condition because of ignorance of the signs and symptoms. 91% of victims of SCA die because of a delayed response, according to the CDC.
---
Story Credit: https://gwinnettcitizen.com/local-news/3852-late-archer-high-school-student-s-heart-continues-to-beat-through-his-foundation-smiling-hearts