Push to Add AEDs at Richmond Schools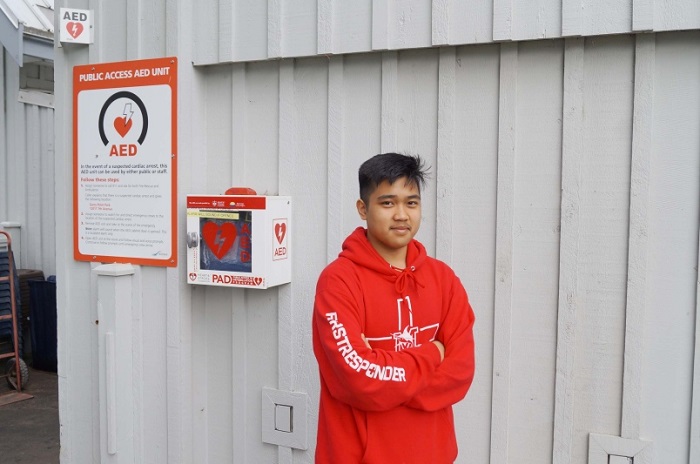 Grade 11 McNair secondary student Aaron Manalo is lobbying the Richmond School District to fund an automated external defibrillator (AED) at his school.
"I believe with enough supporters, we'll be able to not only get AEDs in our school, but for the Richmond School District," said Manalo, who, having basic first aid training, is a member of the school's emergency response team.
The prospective medical student said a school is an ideal place for an AED.
"In December of 2017, a Surrey student unfortunately passed away due to a cardiac arrest while playing basketball. It got me thinking of what we can do to prevent something like this from happening again," said Manalo.
The devices are becoming more common place in B.C., with the B.C. Emergency Health Services Public Access to Defibrillation (PAD) Program having set up over 820 publicly-registered AEDs across the province, to date.
According to PAD, the ideal place for an AED is one where 1,000 adults over age 35 frequent each day. There, a sudden cardiac arrest can be expected every five years, on average.
But, "high school students are not immune to cardiac arrests, if students are doing physical activities in a PE class," argued Manalo, who notes high schools also hold community events and tournaments.
He said the AED would be placed inside the school, however AEDs can be placed outside, with alarms, such as at various locations around Richmond. A standard AED will cost about $1,500.
"AEDs have the potential to save lives and can increase the survival rate and full recovery rate in cardiac arrest victims. There is a lot of evidence that supports the implementation of AEDs, however the school district is concerned about the liability aspects and the maintenance fees," said Manalo, who added he's hit a road block with the district, which did not respond to the News.
He said liability shouldn't be a concern.
"If it breaks, having an AED that doesn't work is no different than not having one. Plus, AEDs check themselves so there's little maintenance," he said.
Furthermore, B.C. has Good Samaritan laws, should someone not be able to properly handle an AED.
---
Story Credit: http://www.richmond-news.com/news/push-to-add-aeds-at-richmond-schools-1.23297819