Does Your Child's School Have A Life Saving AED on Campus?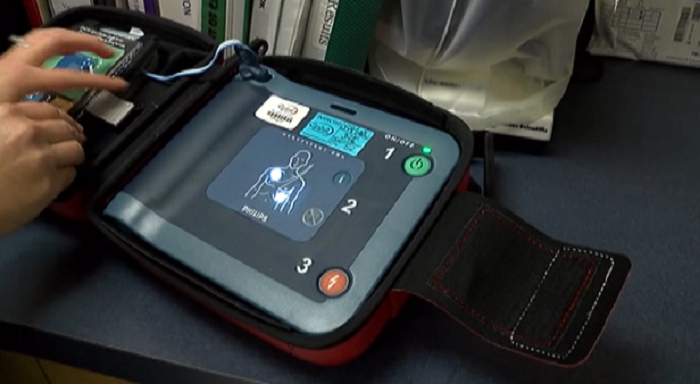 SHREVEPORT, LA (KSLA) - It's a nightmare of a situation most parents and educators may never consider, a student suddenly going into cardiac arrest at school. Being prepared with the best life saving equipment could mean the difference between whether someone lives or dies.
The most important piece of equipment in that medical emergency is called an automated external defibrillator - or AED. The device has one imperative purpose: It sends shocks into a person if he or she suddenly has a heart attack.
If successful, the device would "jump start" the patient's heart and return the normal rhythm.
Across Louisiana, high schools are legally required to have an AED on their premises, if the school partakes in athletics. But, there's a catch. High schools are only obligated to purchase and place an AED on campus if funding is available.
These devices are shockingly expensive, with each machine costing between $1,500 and $2,000.
Reynolds Moore is the head football coach at Benton High School. For Moore, the safety of his athletes is his biggest concern.
"You just pray literally that every time we go out on the field, every time we take practice, games, anything, that our kids are safe," said Moore.
KSLA sat down with Moore to learn more about how these life saving devices actually work.
"When you turn it on, it literally walks you through and it shows you where to hook up the pads and it tells you what to do," said Moore.
According to the Bossier Parish School District, Benton High School has three AED's strategically placed throughout the facility. One device is in a weight room, one is by the gym and another is inside the school's front office.
Understanding the importance of these life saving machines, KSLA set out to learn which high schools in Northwest Louisiana are equipped with this football-sized device.
After contacting all of the parish school districts in our viewing area, we learned most high schools have them, but not all.
Caddo Parish responded by saying each high school is equipped with an AED with the exception of two: Booker T. Washington High School and Woodlawn High School. We reached out to Mary Wood with the Caddo Parish School District to find out why these two schools do not have A.E.D.'s.
We are still waiting for a response.
While they are only required in high schools, KSLA wanted to find out if elementary and middle schools across Northwest Louisiana have taken steps to equip its schools with these devices.
Just this year, Tim Nutt, Child Welfare Officer for Lincoln Parish schools, said one of their students had a heart-stopping emergency. Fortunately, Glen View Elementary School, the scene of that emergency, was equipped with an AED.
"We want to be prepared as possible when a child is under distress," said Nutt. "We have a minimum of four people trained on every campus and we have personnel in the district that are certified to train others."
In total, the Lincoln Parish School District has 22 AED's and is in the process of acquiring more devices.
But, as we learned, Lincoln Parish isn't alone in going beyond the law and taking measures to make sure its elementary and middle schools have AEDs. Webster, DeSoto, and Sabine Parish Schools all are stocked with these important devices.
Bossier Parish schools are in the works of placing AED's in all of their elementary and middle schools before the end of 2020.
As the school year winds down and summer practice begins to heat up, Moore said he hopes schools without AED's find a way to tackle the funds necessary to acquire this life saving machine.
"You don't realize how much you need it until you need it," said Moore. "Everyone's life has value, we can't put a price tag on anyone's life."
---
Story Credit: http://www.ksla.com/story/38095961/ksla-investigates-does-your-childs-school-have-a-life-saving-aed-on-campus