Heart-Warming Story: AED Saves Fort Myers Youth's Life; Now He's Helping to Teach Others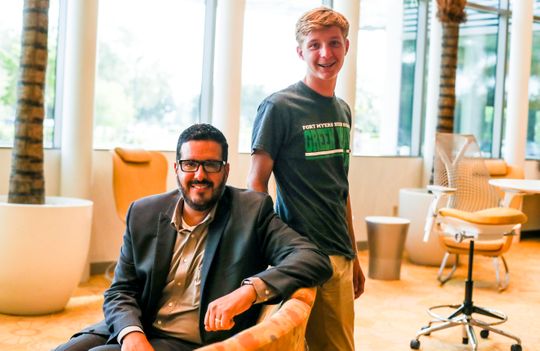 Zac Syska's life has radically changed the past nine months.
It's been scary.
But it's also fulfilling through helping others.
Last December, Zac needed an automated external defibrillator after he had a cardiac arrest while running with his Cypress Lake Middle School team.
Now a freshman at Fort Myers High, he's a spokesman and teacher's assistant for the devices.
In August, Lee Health and The School District of Lee County announced the installation of AEDs in all county middle and elementary schools as well as charter and specialty schools, according to Armando Llechu, Chief Administrative Officer of Golisano Children's Services.
"Children's Hospital is committed to the health and wellness of the kids," Llechu said. "It's not about driving business or making money. It's about saving lives and being a long-term partner with the community."
Lee Health Foundation's Little Red Wagon Fund helped with the $150,000 cost of the AEDs.
It's a team effort that also includes Project Adam and the Lee County Department of Public Safety.
Project Adam began in 1999 following the death of Adam Lemel, a Wisconsin teen who suffered from sudden cardiac arrest while playing basketball. To earn the Heart Safe designation, schools must implement an awareness, training and response program to be prepared in case of a cardiac episode.
"The immediate use of an AED can be lifesaving if needed during an emergency cardiac response," said Sue Grohs, assistant director of health services for The Lee County School District. "Only high schools were equipped with an AED, and now all elementary schools, middle schools, and special centers will also have an AED in a quickly accessible location."
Zac, who also sails, was running a mile warm-up to Fort Myers High when he felt dizzy and tired toward the end.
"I felt weird all over," he said. "I was running but I felt like I couldn't move my muscles."
After the workout, Zac sat under a tree, started wheezing, then passed out.
When he awoke, he was in the ambulance when paramedics told him he had a cardiac arrest.
"I knew something was wrong while I was in the ambulance," Zac said.
Congenital heart issues are the No. 1 congenital issue for newborns, Llechu said. While statistics have remained steady across the nation, Llechu felt AEDs needed to be in all levels of school because of the county's growing population.
"Project Adam has documented saving several lives," Llechu said. "As we talked about this situation, we wondered what we could do to be good partners with the school."
It took Zac about two months before he started feeling normal again.
In April, he had an internal cardiac defibrillator placed on him at Boston Children's Hospital. The ICD is similar to a pacemaker but has a higher dose of electrical shock with longer duration to steady the heart, Llechu said.
The good news is that Zac can continue playing sports. Some youths had to give up sports after receiving free EKG screenings.
Just about the time plans for the AEDs being put in all schools came together, Zac said he'd like to donate his time as part of an Eagle Scout project.
"I share my story, help with people getting trained and answer people's questions," he said. "I think I may have some of the other Scouts get CPR and AED training."
Not surprisingly, Zac said he's interested in being a paramedic when he gets older.
"Zac is a great example of intervention," Llechu said. "Thankfully an AED and trained operator saved Zac's life. He is our inspiration."
---
Story Credit: https://www.news-press.com/story/life/2018/09/10/fort-myers-high-youth-helps-others-learn-use-aeds-after-one-saved-his-life/1132184002/
---
Since you're here, we have a small favor to ask. Requests from schools and districts for our screening services are growing, which means that the need for funds to cover the cost of those services is also growing. We want to make our services available to those who request it and beyond, so you can see why we need your help. Safebeat heart screenings take a lot of time, money, and hard work to produce but we do it because we understand the value of a child's life, PRICELESS!
If everyone who reads this likes it and helps fund it, our future would be more secure. For as little as $1, you can support Safebeat and it only takes a minute. Make a contribution. -The SafeBeat Team