Acadia Hockey Player Thanks Those Who Saved His Life After Cardiac Arrest During Game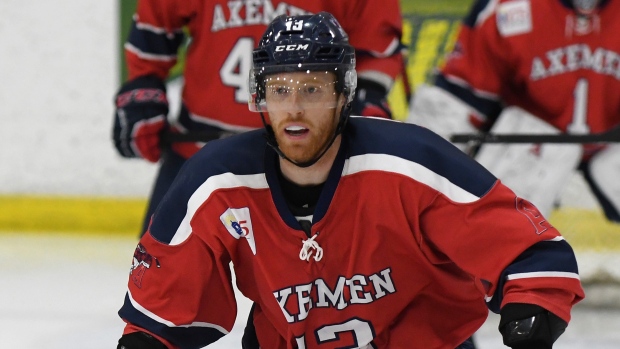 Brendan Childerley and his family want to thank the people they say saved his life on Feb. 23.
Childerley is a 24-year-old hockey player with the Acadia Axemen who left the ice after the first overtime period of a playoff game with St. Francis Xavier complaining of chest pain.
Minutes later he collapsed, stopped breathing and was in cardiac arrest.
Childerley has no memory of what happened that night.
"Absolutely nothing, I lost a lot of my memory from a couple days before right through to when I started coming around in the hospital," said Childerley. "I have no recollection of the events at all, which is probably a good thing."
The hockey team's doctor and athletic therapist as well, as a cardiologist who was at the game, worked on Childerley underneath the stands.
Several paramedics also chipped in, some were on duty while others were spectators at the game. They used a portable defibrillator to get Childerley's heart beating again.
He was eventually taken to a cardiac unit in Halifax.
Surgery was later performed to clear a blocked artery.
It was several days before Childerley was well enough to learn what had happened to him.
'I was very fortunate to have all of them around'
The news of the cardiac arrest came as a complete shock to his parents who were contacted at their home in Stratford, Ont., and they flew to Halifax as quick as possible. Childerley spent nearly two weeks in hospital.
He knows how close he came to dying and he's phoned the people who helped save his life.
"I was very fortunate to have all of them around and I can't thank them enough for all they've done."
Competitive hockey career is over
Childerleys' cardiac arrest also hit the Acadia hockey team hard.
But his recovery went well enough to allow him to travel to the University Cup in Fredericton last weekend where the Axemen won the bronze medal at the national championship.
It's Childerley's first year at Acadia. He previously played at St. Thomas University in New Brunswick for three seasons where he was an academic All-Canadian and the team captain.
He transferred to Acadia when the hockey program at STU folded. He has one more year of college eligibility but he's been told his competitive hockey career is over.
"It's tough to hear that something you've done for so long and loved is over," said Childerley. "But the fact that I'm still here and my health is bouncing back is the most important thing."
---
Story Credit: http://www.cbc.ca/news/canada/nova-scotia/acadia-hockey-player-recovering-from-cardiac-arrest-1.4035638