A Football Physical Saved His Life. Now Vance WR is a Star and Could Play in College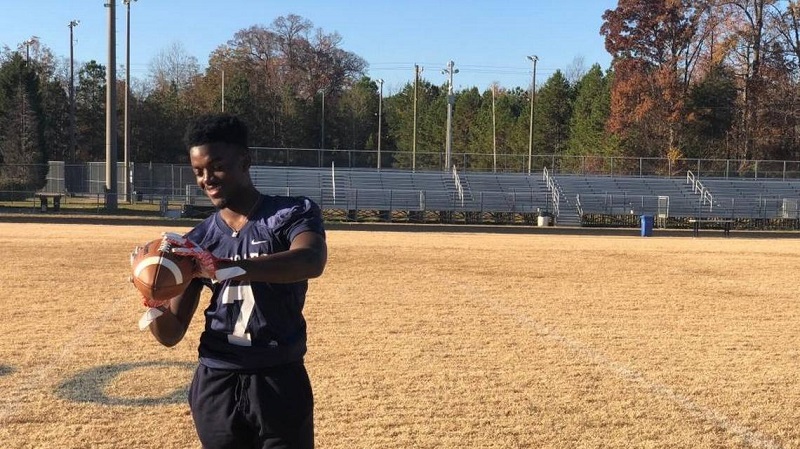 Vance High senior Jaylen Riley, to this day, isn't sure why his brother kept insisting he take a special physical offered to athletes by Charlotte-Mecklenburg Schools four years ago.
Riley, now 18, wasn't sick. He was a rising ninth grader, headed to Independence. He looked healthy and strong.
But for some reason, Markell Riley kept telling his brother that he needed to go see the doctor.
And as it turned out, Markell saved his Jaylen's life.
"He pushed my Mom to send me because it was free," Jaylen Riley said this week. "Man, I really love him for that."
Friday night, Riley will start at wide receiver for Vance (11-3) when the Cougars visit Harding (12-1) in the N.C. 4A Western Regional championship game. Vance will try to reach the first state football final in school history. For the season, Riley has caught 59 passes for 1,188 yards and 17 touchdowns.
And he's done it with an aluminum ring doctors put in his chest the summer before his freshman year to control blood flow to his heart.
Back then, when Markel was urging him to get the physical, doctors discovered Jaylen had something called mitral valve regurgitation. The American Heart Association said a leaking mitral valve allows blood to flow in two directions when the heart pumps – through the aortic valve, as it should, and some back into the atrium.
The condition can be life threatening as it can lead to stroke, heart enlargement and heart failure.
Heart of a Champion Day
Riley's issue, which had no symptoms, was discovered during Charlotte-Mecklenburg Schools' Heart of a Champion Day, an annual offering by the school system that provides athletes with a thorough exam from a team of Carolinas Health Care doctors, and it includes orthopedic, nutrition and general wellness screenings. Athletes also receive heart screenings, with the goal of detecting health risks before they become issues.
That heart screening was crucial for Riley, who had no idea he had a problem.
"I remember when I went in, it was scary because it was my first time and they had lots of machines and all that," Riley said. "But in the process they found my heart was skipping and my blood pressure was too high for someone my age."
Riley said he had two options – a heart transplant that would seriously jeopardize his playing career, or the aluminum ring, installed to regulate the blood flow that was going the wrong direction in his heart.
After he got the ring, he started his freshman year at Independence.
Then-Patriots coach Hal Brown had coached one of Riley's older brothers, Javon Rembert, a 5-foot-9, 180-pound receiver. Javon graduated from Independence in 2008. Brown knew the family produced talented players, and he said it bothered him that Riley wouldn't be able to play his freshman year.
"I felt so bad and I asked was there any chance he could kick, as long as the very minute he kicks off he runs off the field," Brown said. "We got it cleared with the doctors, and I said to him, 'If we do this, I'll stand there and you've got to run off the field, right toward me, the minute you kick.'"
Riley did that as a freshman, then played for the Patriots as a sophomore and a junior. The only after-effects of his surgery, Riley said, have been he can get short of breath when he runs too much. And when his family moved into the Vance district before this season, Cougars coach Aaron Brand thought he might be getting a gem.
"I coached Javon (as an assistant) at Independence and I would bring Javon home and would see Jaylen riding his bike in the middle of the road," Brand said. "So I've known him for awhile and I knew the family was talented, so when I heard he was moving to this area, I was excited. And I knew he had had some issues with his heart, and had been limited on the field.
"No one knew what Jaylen could do."
'We haven't babied him'
Brand said he was not surprised that Riley, now 5-10 and 175 pounds, came in and became a starter right away.
"Initially the rumors we heard was that he wasn't really tough," Brand said. "I don't understand how you can have that label going through what he's gone through. We've seen nothing but the opposite here. We've held him accountable. He's got a 4.0 GPA. We haven't babied him."
And Riley has produced. His 1,118 receiving yards ranks 13th in North Carolina. His 17 receiving touchdowns are third-best in the state. Riley has what Brand calls "heavy interest" from Charlotte, Charleston Southern, Gardner-Webb and Old Dominion.
Vance QB Nigel Summerville – who has thrown for nearly 2,800 yards and 27 touchdowns in his first season as a starter – said Riley has made his job so much easier.
"We're on the same page about almost everything," Summerville said. "When I see something, I know he sees the same thing. When coach Brand told me about his situation, I thought it was incredible. When I met him, with the heart and energy he plays with, you'd never think that was him (with a heart condition). I would think it would be extremely impossible to do, to play through that. But to have 1,200 yards? It's incredible."
Hal Brown, Riley's former high school coach, used the same word – incredible – to describe Riley's senior season.
"He's lighting it up," said Brown, now teaching IB world history and coaching the offensive line at Myers Park. "But you know, I had a friend who was a triathlete and he had a similar surgery. He told me it took him two years to be back in his competitive mode. It may be the same with Jaylen, and I think he's come into his own now, and what a great time to do it – your senior year. He's a good kid, from a fine family. They are really nice people. It couldn't happen to a better person."
---
Story Credit: http://www.charlotteobserver.com/sports/high-school/article187258973.html