10-Year-Old Dies of Cardiac Arrest in School Assembly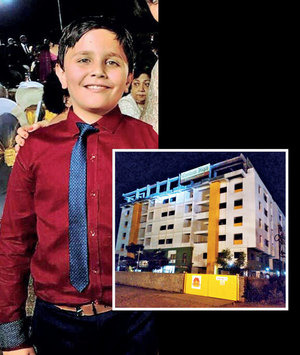 Don't wait till 40 for your first holistic health check-up!
Parents of the child unaware of any health scare; Caelum High School president sees this as a wake-up call and will urge parents of kids to do their routine health checks.
Students of Caelum High School in Undri and their parents were in for a shock on Thursday morning, when a 10-year-old collapsed at the assembly and was declared dead an hour later. According to doctors, Farhaan Havewala was suffering from a heart condition that his parents were unaware of, which resulted in a massive cardiac arrest and eventually his death.
The incident has sent shockwaves across the school, as many of the children there witnessed the incident. It was to be just another day for Farhaan, a student of Class V, who had arrived on the school bus and went up to his classroom to keep his bag, after which he came down to attend the assembly.
According to the school management, he was standing in line with his classmates when he suddenly collapsed around 7.45 am. "Immediately after the incident, our school nurse examined him and advised that he be rushed to a hospital. She had picked up signs that something was amiss," said Harish Thadaney, president of the school. Instead of waiting for an ambulance to arrive and take him to a hospital, Monica Thadaney, director of the school, rushed the child to Ruby Hall Clinic, Wanowrie, in her car.
She had alerted the hospital about Farhaan being brought there, so the staff was ready to receive him.
They spent the next 45 minutes to revive him, but failed to do so. This is when they learnt that the child had a previous heart condition. "The parents were, however, unaware of the condition. It came as rude shock to all of us. There is no way to find out that a 10-year-old could have a heart condition," said the president of the school.
The school has announced a holiday on Friday to mourn Farhaan's death.
"The boy was not responding to any emergency medical treatments. The team of emergency medical experts, paediatrician, etc conducted various tests for almost 45 minutes. The doctors even did a cardiopulmonary resuscitation (CPR) but there was no response, following which he was declared dead," said Dr Sanjay Patil, from the hospital's emergency medical services.
Since it was a medico legal case involving the death of a minor, Farhaan's body was sent for post-mortem to BJ Medical College. Dr Ajay Chandanwale, the hospital's dean, said, "According to the post-mortem report, the boy had an acute septal defect (ASD) which caused the death. There was a hole in the upper chamber of his heart which led to the condition. In such cases, the pure and impure blood in the heart get mixed, causing a lifethreatening condition to the patient." Farhaan's condition involved oxygenated blood to flow from the left ventricle into the right and mix with deoxygenated blood. Doctors say his ailment is not a critical one if detected and treated on time.
This incident has been a wake-up call for the school. Harish Thadaney will now recommend to the parents that they get their children checked routinely for all medical problems at regular intervals. "Given our lifestyles and complex emotional undercurrents, it is about time that even five-year-olds undergo full body check-ups," he said.
The 10-year-old and his elder sister Freiya go to Caelum High School. They reside with their parents Fereida and Farrokh Havewala. His mother Fereida is director at Cantabile Institute of Piano, Voice and Speech. She runs a choir and is also the Pune representative of Trinity College of London.
Their neighbours at Salisbury Park said that Farhaan was a jovial and playful child, and expressed shock at his death. His relatives confirmed that no one in his family was aware of his heart condition. When Mirror contacted the private tutor who taught Farhaan and his sister, she said she was unable to grapple with the news of his death. "He was a bubbly child. None of us had an inkling that he had a congenital problem. He would play and run around like any other child his age," she said.
Dr Madhur Verma, chief executive officer at Sahyadri Hospitals, said that Farhaan's paediatrician should have picked up the signs of his condition, even if the child did not complain of anything in particular. "A simple stethoscope examination would reveal that something was amiss in the child," he said. Dr Verma believes that the only way to avoid such incidents is for parents to have their kids examined regularly. "In our country, we go to a doctor or a hospital only when something is wrong. Ideally, we should get a child examined regularly. It doesn't cost a lot to get brain, lungs and heart examined routinely. Any major disorders get immediately picked up in such checks," he said, adding that you do not need to turn 40 to start getting check-ups for lifestyle disorders.
Dr Shriniwas Kini, paediatric cardiac surgeon at Ruby Hall Clinic, said, "The symptoms may have been there, but Farhaan may not have informed his parents and hence it went undiagnosed. Breathing problem is the main symptom in ASD patients. Any patient who has ASD suffers from abnormal rhythm of the heart which causes arrhythmia and, in such conditions, patients can collapse on the spot. Arrhythmia (improper beating of the heart, whether irregular, too fast or too slow) can happen when the child suffering with the undiagnosed disease is busy with some sport or physical activity. Arrhythmia in patients suffering from ASD can cause haemodynamic compromise, which can cause death."
---
Story Credit: http://punemirror.indiatimes.com/pune/cover-story/10-year-old-dies-of-cardiac-arrest-in-school-assembly/articleshow/61870742.cms