State Recognizes Life-Saving Call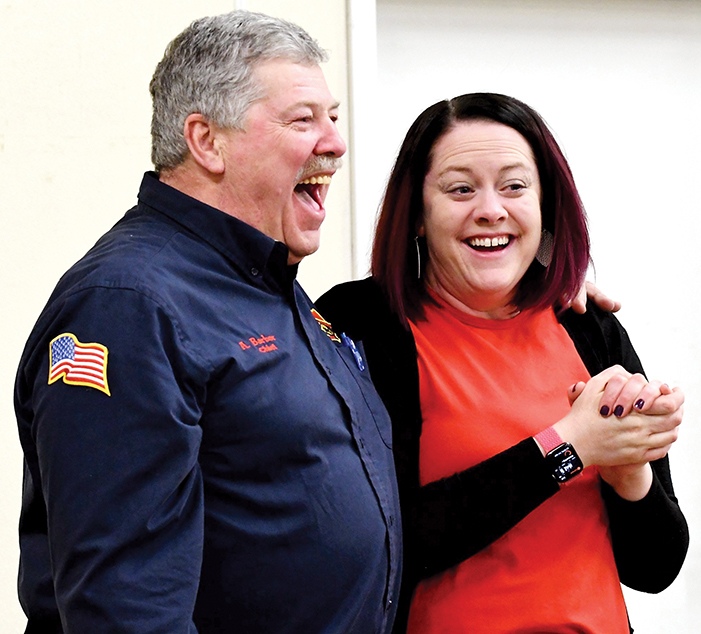 Members of the Hinesburg Fire Department received the Vermont EMS Star of Life Award last week for their efforts in the early morning hours on Halloween that saved one of their own family members.
The award is presented to emergency medical service professionals who perform "life-saving actions above and beyond the call of duty."
As that morning unfolded, more than two dozen volunteers stepped up to do just that.
The call came into Shelburne Dispatch around 4 a.m.
"Hinesburg was dispatched for a person with difficulty breathing," Assistant Chief Eric Spivack said. "Within two minutes, the dispatcher updated us that CPR was in progress, with an emergency medical services person on scene. We quickly realized we were responding for one of our own."
The call was for Katie Charbonneau, Chief Al Barber's daughter and Captain Lucas Charbonneau's wife.
"Her husband woke up and she had stopped breathing," Barber recalled. "So he started CPR."
She received CPR for 40 minutes, and was shocked eight times with a defibrillator, Barber said. She had suffered from sudden cardiac arrest.
Barber recalled the events last week. "She's seven weeks out (of the hospital) and she's doing very well with no signs of side effects."
The department's award was presented by Dan Batsie, State EMS Chief, on behalf of the Vermont office of Emergency Medical Services. The award is given out about once a month, if there is a deserving call, Barber explained. This is the first such award for the Hinesburg Fire Department, he added.
Eighteen of Hinesburg's 52 firefighters received pins for the award, along with four St. Michael's College Rescue members, and a South Burlington paramedic who helped get Charbonneau to the hospital.
The department celebrated the honor and the happy ending to the call with a dinner and ceremony last week.
"As the award ceremony continued, I looked around the room," Lucas Charbonneau wrote on Facebook. "Everyone there helped my wife. Everyone there helped my family. I will never be able to repay any of you. Thank you."
Now in an effort to help educate people on CPR, the Hinesburg Fire Department is offering a class to anyone interested in this life-saving skill.
They're calling it "Katie's CPR Day" because of her story. The training is Feb. 2 from 9 a.m. to 4 p.m. Contact the department to sign up.
"Everyone should be trained (in CPR), because without it she wouldn't have survived," Barber said.
---
Story Credit: http://www.shelburnenews.com/2018/12/27/state-recognizes-life-saving-call/
---
Since you're here, we have a small favor to ask. Requests from schools and districts for our screening services are growing, which means that the need for funds to cover the cost of those services is also growing. We want to make our services available to those who request it and beyond, so you can see why we need your help. Safebeat heart screenings take a lot of time, money, and hard work to produce but we do it because we understand the value of a child's life, PRICELESS!
If everyone who reads this likes it and helps fund it, our future would be more secure. For as little as $1, you can support Safebeat and it only takes a minute. Make a contribution. -The SafeBeat Team