Kirkland Resident Earns Community Hero Award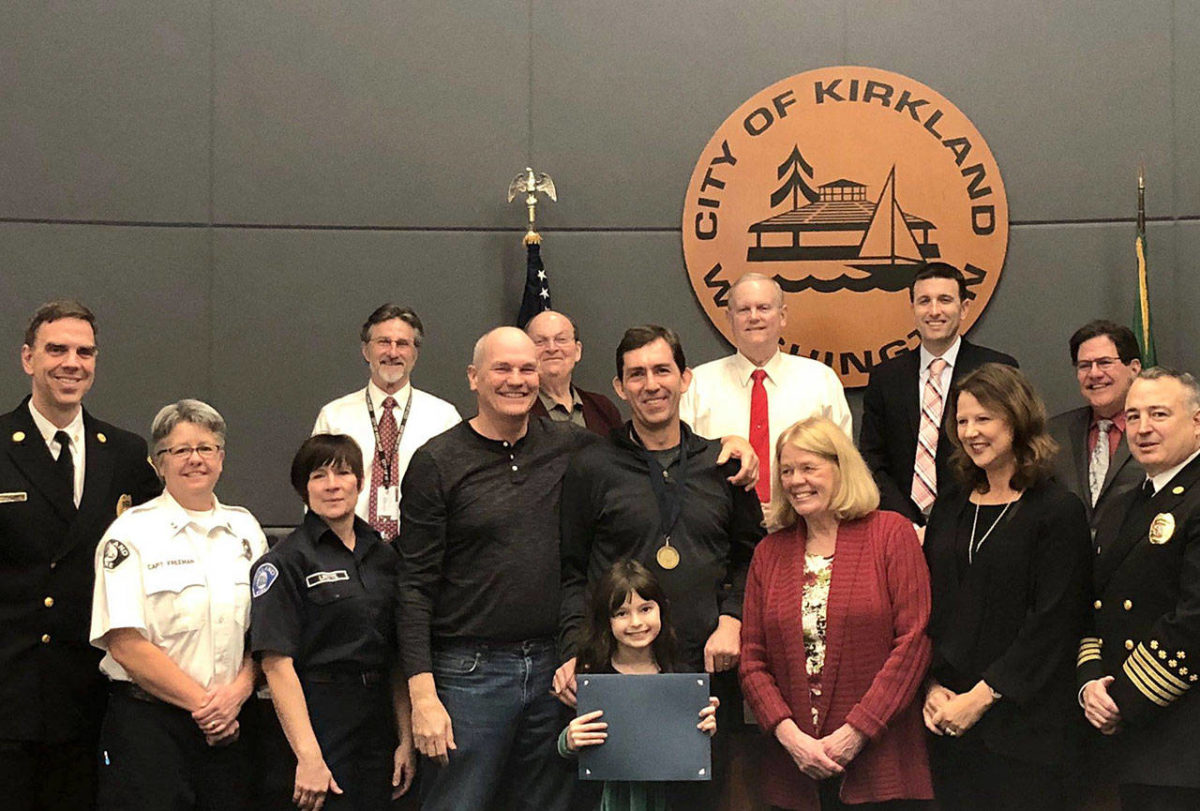 Joshua Reiss, who helped save a fellow citizen's life, encourages CPR training.
The city of Kirkland and the Kirkland Fire Department recently presented the Community Hero Award to Kirkland resident Joshua Reiss for his actions in saving a fellow citizen's life over the summer.
City manager Kurt Triplett noted that this season is a "time to give thanks and celebrate good Samaritans." Reiss was recognized at the Kirkland City Council meeting on Dec. 11.
On July 12, Kirkland resident Dean Wilson collapsed while playing ultimate Frisbee at Spinney Homestead Park. Reiss took immediate — and "exceptional and courageous," according to Councilmember Penny Sweet — action to save his life.
Reiss, who was playing on the opposing team, initiated CPR while other bystanders accessed 911. Reiss performed six to eight minutes of effective CPR before Kirkland fire EMTs and Redmond Fire Department paramedics arrived.
The first responders provided basic and advanced life support to Wilson. After additional care on scene, including defibrillation and additional CPR, Wilson was transported to Overlake Medical Center with a pulse and respirations.
"All our first responders were impressed by Mr. Reiss's willingness to help Mr. Wilson," according to the city of Kirkland.
Reiss said that he worked for a cardiovascular device company for 20 years, and that his training kicked in on that "very surreal night." He encouraged the city to help get more people certified in CPR.
"It's great to have defibrillators in libraries and schools, but so many of these events happen where there is no equipment around," he said. "The more we can do…to educate the civilians, we can keep more people alive. But I was very happy to do my part."
Early CPR by Reiss was the first link in saving Wilson's life, and after treatment at Overlake, Wilson made a full recovery and was able to return home to his family.
"The actions of Mr. Reiss exemplify what is best about our community," according to Kirkland Fire Chief Joe Sanford. "This incident also reminds us of the effectiveness of our region's tiered emergency response system where brave citizens form the first link in what is commonly referred to as the 'chain of survival.'"
At the Dec. 11 council meeting, Deputy Fire Chief Dave Van Valkenburg noted that sudden cardiac arrest is one of the leading causes of death among adults, with more than 300,000 cases every year nationwide. One of the key components to survival is bystander CPR, he said.
Van Valkenburg thanked Reiss for his "willingness, ability and compassion to jump in and take action."
---
Story Credit: http://www.kirklandreporter.com/life/kirkland-resident-earns-community-hero-award/
---
Since you're here, we have a small favor to ask. Requests from schools and districts for our screening services are growing, which means that the need for funds to cover the cost of those services is also growing. We want to make our services available to those who request it and beyond, so you can see why we need your help. Safebeat heart screenings take a lot of time, money, and hard work to produce but we do it because we understand the value of a child's life, PRICELESS!
If everyone who reads this likes it and helps fund it, our future would be more secure. For as little as $1, you can support Safebeat and it only takes a minute. Make a contribution. -The SafeBeat Team