High School Students, Coaches Save Life of Woman in Cardiac Arrest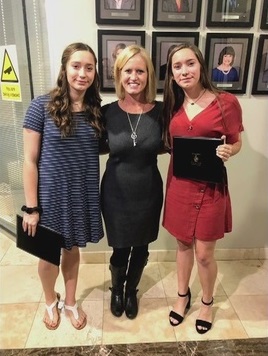 Two coaches and two of their young student-athletes were recognized Wednesday for saving a stranger's life.
All four stepped up when a woman was having a heart attack and their quick actions made all the difference.
"There was like no choice and our minds," said student Christy Winkler.
Early one morning in October, twin sisters Christy and Riley Winkler were wrapping up their morning volleyball practice at Plano Senior High School. They were about to board a bus back to Clark High School when Riley saw a woman collapse.
"At first I thought she just tripped and fallen," she said.
The woman, a volunteer at the school, was in cardiac arrest. The twins immediately got the attention of their coach.
As he and another staff member started CPR, the teens ran to get the automated external defibrillator, something they had only recently learned how to use.
"They responded," said coach Tom Kailey. "They didn't freak out. They responded in a mature manner."
Coach Kailey used the AED before paramedics arrived and treated the woman, who is expected to make a full recovery.
All three have met the woman and learned she is the mother of one of their fellow students at Clark High.
"It was all very emotional when we met her," Christy said.
Medical professionals said it was the quick action of the twins and the coaching staff that saved the woman's life.
"I'm glad we could be there to help, but the outcome was really what we all, I think really, we worked for," Riley Winkler said.
Plano Fire-Rescue and Medical City Plano recognized the three and a Plano Senior High School trainer Wednesday morning at the hospital.
---
Story Credit: http://www.fox10phoenix.com/news/us-world-news/high-school-students-coaches-save-life-of-woman-in-cardiac-arrest
---
Since you're here, we have a small favor to ask. Requests from schools and districts for our screening services are growing, which means that the need for funds to cover the cost of those services is also growing. We want to make our services available to those who request it and beyond, so you can see why we need your help. Safebeat heart screenings take a lot of time, money, and hard work to produce but we do it because we understand the value of a child's life, PRICELESS!
If everyone who reads this likes it and helps fund it, our future would be more secure. For as little as $1, you can support Safebeat and it only takes a minute. Make a contribution. -The SafeBeat Team