Fort Polk Vet, Active Duty Soldier Save Golfer's Life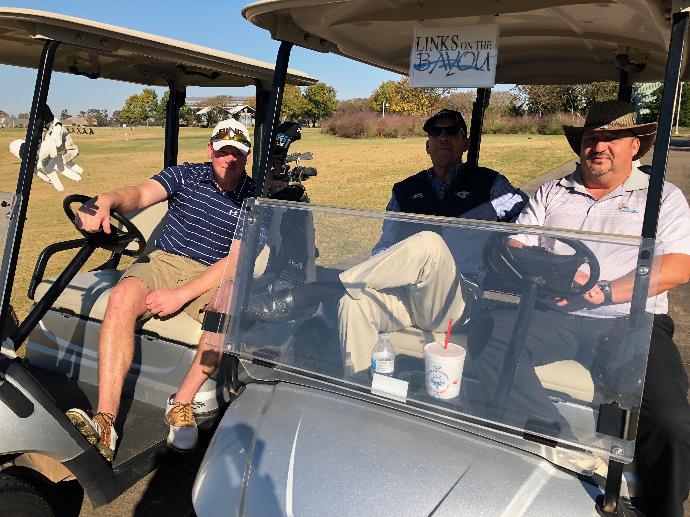 August 26 started out as a normal Sunday game at Links on the Bayou.
Golf buddies Billy Voorhies, Gregory Franklin, Andrew Baxter and Bobby Edelen joked around like usual.
"I was just having a good time picking on them as they golfed like we always do," Voorhies said.
But, that quickly changed for Voorhies at the second hole.
"Next thing I know they tell me I am on the ground," Voorhies said. "Of course, I don't remember any of that."
But, Voorhies was in good company with Army Veteran Franklin and First Sergeant Baxter. Franklin was stationed at Fort Polk a few years back, and 1SG Baxter is stationed there now.
"With his military training, he checked his pulse, said it was a very weak pulse," Franklin said. "I started CPR and Andrew, on his own, picked up the phone and started calling 911."
It was training they never thought they'd have to use.
"It is good that we have that military training especially for our soldiers and just in general," 1SG Baxter said. "So, if that situation does come about you can just execute."
Both alternated performing CPR while waiting for paramedics.
"After about four more compressions it sounded like somebody snapped a bone in your ear," Franklin said. "It was a loud pop."
Paramedics arrived on scene 11 minutes later, but Franklin thought he would bury his friend.
"On my way I got his truck to go pick up his wife and I was thinking of a eulogy in my mind," Franklin said. "I mean it was that serious."
Doctors said Voorhies survived sudden cardiac arrest. According to the American Heart Association 90 percent of people who experience that, die.
"The way the doctor explained it, the heart was quivering to where it wasn't pumping blood," 1SG Baxter said.
But, almost three months later, Voorhies is slowly getting back into the swing of things.
"I've got great friends, man," Voorhies said. "I am going to be out here as much as I can with them, I sure am. You just can't ask for better friends than what I got."
The guys know it could have been much worse.
"We are taking it slow, but I think it is really important for all of us that we didn't lose Billy that day," S1G Baxter said.
Each is thankful for the real life mulligan Voorhies was given.
"My heroes, they did a great job, kept me alive," Voorhies said. "I owe my life to them, what can you say."
Sunday was Voorhies' third time back at Links. While he can't play an entire game yet, his friends said he makes progress with every swing.
---
Story Credit: https://www.knoe.com/content/news/500858352.html
---
Since you're here, we have a small favor to ask. Requests from schools and districts for our screening services are growing, which means that the need for funds to cover the cost of those services is also growing. We want to make our services available to those who request it and beyond, so you can see why we need your help. Safebeat heart screenings take a lot of time, money, and hard work to produce but we do it because we understand the value of a child's life, PRICELESS!
If everyone who reads this likes it and helps fund it, our future would be more secure. For as little as $1, you can support Safebeat and it only takes a minute. Make a contribution. -The SafeBeat Team