Family Thankful for Sister's CPR Skills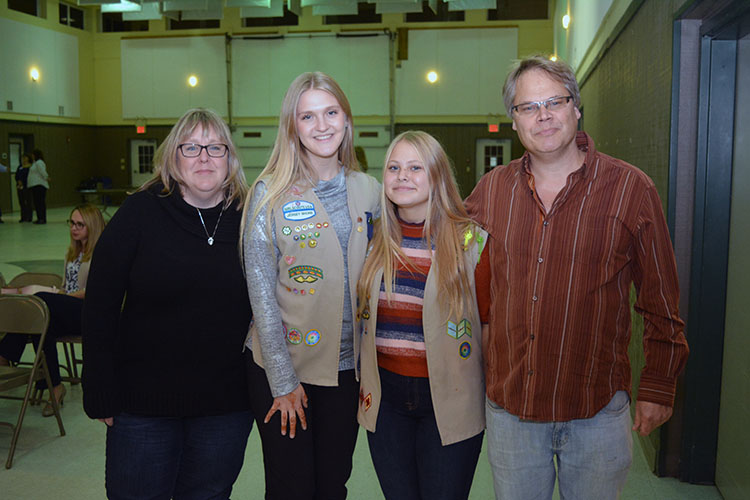 Last November, Theresa and Steve Taylor were sitting on a bus headed to New York City for an evening of live music when they received an unthinkable call from the Ocean Township police department.
Their 12-year old daughter, Sarah, was in an ambulance en route to the hospital, after her older sister and Red Bank Regional student, Claire, 15, watched her collapse in their Wanamassa home. Paramedics found Sarah unresponsive and suffering from cardiac arrest, with Claire performing CPR. A defibrillator was used to revive her.
A year later the Taylors have a new outlook on Thanksgiving.
"I think we're just thankful that we are all here today and able to celebrate with one another," Steve said in a Nov. 18 interview with The Two River Times. "It puts life in a new perspective when you go through something like that."
By all accounts Nov. 12, 2017 was a normal day in the life of the Taylor family, one due to culminate with an evening on the town for their parents, and a movie night at home for the Taylor sisters.
Though Sarah doesn't remember much from the incident, Claire can still recall the smallest details with clarity, including a lunch the Taylors shared that afternoon: Ham and pineapple pizza, the only deviation from her regular routine.
"This was the first time she ever tried it. The doctors were asking us what was different for her that day and it was the pizza. That was it. So now we forbid her from having it ever again. It's sort of the running joke," Theresa said.
Claire, a member of the All-State Choir, remembers her sister coming out of the shower that night and heading downstairs to spend time with the family cat. The memory of Sarah sitting in a rocking chair near the front door with the cat on her lap is still vivid, as was the moment she collapsed.
"I love music. I'm a performer in the choir. And when I'm home, I'm always in my room listening and singing along to music. Usually I would have some sort of distraction," Claire said. "But for some reason I wasn't in the mood that day, and I just wandered out to the stairs and started watching my sister."
Claire said it was an "odd circumstance" and, looking back on it, she believes she was compelled by God to keep an eye on her sister at that moment.
According to her parents, officers said if Claire hadn't acted so quickly, calling neighbors for help, phoning 911 and performing CPR, Sarah may have died.
Claire said she learned CPR through the Girl Scouts and, for her heroic efforts, the Girl Scouts of the Jersey Shore presented the 16-year-old with the Girl Scouts' Medal of Honor, a distinction given just 16 times in 2018 across the nation.
"When I tell the story to people, a lot of times they'll tell me how sorry they are, and how terrible a thing this was," Sarah said. "But I see the good things that have come from it. It's brought us together more as sisters. It's brought my family closer together. And it's connected me with my faith. People see it as a nightmare. But I think it's a miracle."
34 Fair Haven Merchants Invite Visitors to 'Shop Small' Since the incident, life in the Taylor household has continued. Sarah has joined the Ocean Township Police Department Explorers and this past weekend delivered Thanksgiving food baskets to members of the community in need.
Claire is in her second year with the All-State Choir and performed Sunday with the group at the New Jersey Performing Arts Center in Newark, a show attended by her family, who missed the show a year ago while they were looking after Sarah at the Children's Hospital of Philadelphia (CHOP).
"I was crying at the show, because it felt like closure for me," Theresa said. "This time last year we were in a hospital not knowing what was going to happen with Sarah. This year it was like hitting a redo button. We were all able to see her perform. It was special."
Though it may feel like closure, the Taylors acknowledge that it's merely the end of a chapter in a longer saga. Doctors have still not been able to provide Sarah and her family answers to explain Sarah's sudden cardiac arrest.
However, Sarah said she has found strength in the mystery.
"I think about it a lot, and sometimes it can be tough, because this is pretty rare, so there's no one I know who can relate to the experience. There's just not a lot for me to go off of," Sarah said.
"But going forward, as much as it did impact my life, it won't define me as a person. I don't let it get to me. I definitely do find a sense of independence in it. It makes you a stronger person."
---
Story Credit: https://tworivertimes.com/family-thankful-for-sisters-cpr-skills/#
---
Since you're here, we have a small favor to ask. Requests from schools and districts for our screening services are growing, which means that the need for funds to cover the cost of those services is also growing. We want to make our services available to those who request it and beyond, so you can see why we need your help. Safebeat heart screenings take a lot of time, money, and hard work to produce but we do it because we understand the value of a child's life, PRICELESS!
If everyone who reads this likes it and helps fund it, our future would be more secure. For as little as $1, you can support Safebeat and it only takes a minute. Make a contribution. -The SafeBeat Team