Rennie Curran
Former NFL & CFL Professional Athlete | Author | Motivational Speaker | Personal Development Coach | UGA Bulldog
I'm excited to serve as an endorser of the SafeBeat Initiative!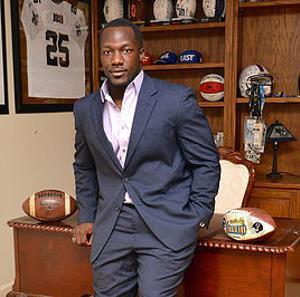 Rennie Curran is an internationally acclaimed speaker, author, musician, and American football linebacker who is currently a free agent.
He began his career at Brookwood high school in Snellville, GA becoming the all-time leading tackler in Gwinnett County. He went on to excel as a three-time All-American at the University of Georgia. He was initially considered to be undersized according to various critics, but quickly silenced the doubts by exploding onto the field as a true freshman.
Rivals.com rated him as a four-star recruit and listed him as the No. 11 inside linebacker prospect in the nation. In 2007, Rivals.Com named him Freshman All-American. In 2008, he was labeled "The most dominant defensive player in the game" and nominated as a finalist for the Butkus Award along with many other awards. In 2009, he was nominated as a finalist for the Rotary Lombardi Award, Bednarik Award and tabbed as "SEC's Best Hitter". Out of all the awards and accolades, his proudest accomplishment was being named as a permanent team captain.
He was selected in the third round of the 2010 NFL Draft by the Tennessee Titans, spent some time with the Tampa Bay Buccaneers in 2012, and joined the Edmonton Eskimos in 2013, racking up a whopping 70 tackles in the 2013 season.
All-American, "The most dominant defensive player", Titan, Eskimo: All of these words can describe Curran's legacy. However, his fans know him by another title––"the Liberian Dream."
Curran bears the moniker both as a tattoo on his left bicep and as a personal motto. His parents emigrated from Liberia in the mid-80s and planted new roots in America. His mother earned a master's degree in nursing from Emory University and became a certified diabetes educator while his father founded a shoe repair business. Curran grew up witnessing the sacrifices they made as they supported and sheltered family members and friends during a bloody thirteen-year civil war in their homeland. It was this compassion and selflessness that inspired Curran to stop at nothing to achieve his dreams and catalyze a change in the world.
Curran's widely renowned athletic career has allowed him to give back to the Liberian community, supporting educational and social institutions. At the same time, he promotes goodwill and continues to build positive relationships by working with many non-profit organizations in the Atlanta Area including the Boys and Girls Club, MAP international, and the CETA Foundation.
Curran has also found success in other fields. He is a musician who grew up playing the piano, drums, and viola. He regularly travels as a motivational speaker, talking to many different organizations inspiring individuals to live life to the fullest. In April 2013, Curran published "Free Agent – The Perspectives of a Young African American Athlete." This motivational self-help book discusses how to overcome the adversities and circumstances we all face along our journey to achieve our dreams in life.
Curran is both an athletic powerhouse and a determined individual whose prosperity continues to invigorate countless audiences. His drive both on and off the field is a testament to his continuous passion for life. When he's not playing or practicing, Curran spends lots of time with his family, especially his daughter Eleana, passing on his wisdom and love to her.
Curran is a man of humility, integrity, and resilience. He truly is "The Liberian Dream."
---
Connect with Rennie