Ahmard Vital
Author, Speaker, Football Analyst and Correspondent to Fox Sports Southwest

"Recently, I joined the SafeBeat Initiative efforts. It did not take me long to realize that this is an organization that I truly wanted to associate with. Knowing that kids across the country are dying due to issues with their hearts touched me in a way that I had not felt before. And then to know that there are testings that can be done to prevent this, I knew that I wanted to be involved. I have not only added this organization to the short list of groups I will contribute to, but I will encourage friends, family and colleagues to do the same. I want to be a part of the solution to saving kids' lives one young soul at a time."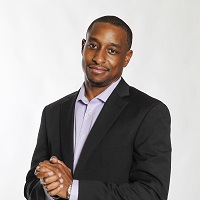 Ahmard Vital is a sports media analyst who evolved into a keynote motivational speaker and author. After nearly a decade of studying the success habits of high achieving athletes, he developed principles that are shared in his keynotes for football programs, sports leagues, companies and organizations across the country.
With his core concept of "Awaken the Baller," Ahmard highlights the strategies used from the research of blue-chip level athletes' mental attitudes, which is documented in his book Awaken the Baller Within. Dream building, goal setting and a relentless belief are the tools by which Ahmard teaches and equips athletes and individuals to become great in their chosen professions.
To take the things to the next level, Ahmard earned the title of Certified Mental Coach in February 2013 through Extreme Focus, a program founded by Dave Austin and Roger Anthony. His teacher, Austin, has been, and continues working with major league baseball, professional football players and tennis pros.
As a national sports writer, Ahmard was a college football recruiting analyst for Scout Media/Fox Sports. He is a staple on Fox's High School Scoreboard Live as an expert on Houston area prep football and is featured on several national and local radio broadcasts including Yahoo Sports Radio and the Texas Sports Radio Network. Ahmard has written articles and been quoted in publications like the Houston Chronicle, Dave Campbell's Texas Football, the Pittsburgh Tribune-Review and the Dallas Morning News.
Once Ahmard transitioned into a speaker, he made several rounds throughout high school locker rooms and sports camps in the state of Texas. In 2015, he released two DVDs: Wake Up a Winner and Winning Tells the Story. Why Wait to Be Great and the Top 4 Reasons Athletes Sabotage Their Success are two of the newest keynotes that have been produced as audio products.
Ahmard also partners with the VIP Group, an organization dedicated to helping people reach maximum potential. With the group, Ahmard published an inspirational blog titled, "Vital Thoughts for Life," which was a must-read for progressive individuals seeking immediate change. With VIP founder Arthur J. Johnson II, Ahmard collaborated on three CDs– The Power of One (two-disc) and The Power of Faith: Time to Get a New Act.
When Ahmard is not writing or speaking, he is usually involved in some type of fitness activity. In fact, Ahmard is a certified group fitness instructor, and teaches indoor cycling and boot camp at several health clubs in North Houston.