Grayson Marshall JR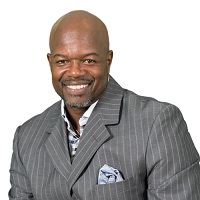 THE COACH
Grayson has the distinctive talent of "getting you to believe in you." His unique ability to highlight, isolate, and obliterate mental blocks is why people call him the "Metacognition Expert." A nationally respected influence in the basketball community, Grayson is a highly sought-after consultant for a host of college and professional teams as well as corporations.
Professionally, Grayson is well known as "The Coach of Coaches." He mentors a broad scope of C-suite executives and sports coaches to elevate their productivity and accountability. He consults with professional athletes and military and non-profit organizations to implement and maintain best practices while monetizing strategies so they can stand out in their respective markets.
THE AUTHOR
Grayson's first book Do Positive – The Keys to the Life You Always Imagined is a mind-shifting book that has changed countless lives as readers experience immediate changes through genuine awareness and understanding of how they think, and also learn how to put a stop to personal destructive cycles that stymie success.
His second book Maintaining Greatness – Managing your Gifts for Limitless Living is all about reclaiming your birthright and rightfully positioning yourself in the path of blessing. Apply the principles in this book and you will learn the importance of maintaining greatness and truly living in the power of who you were born to be.
Grayson's current work Your 2nd Half is in progress and the most important book of his career. This book is the bible of applicable instruction for athletes who are intentional about living a winning, successful, purposeful life after sports.
THE ACC LEGEND
In 1988, with 857 assists, Grayson left Clemson as the All-Time assist leader and the All-Time leader in the ACC, including a single game record of 20 assists and career records of 7.02(career average) and 7.71(season). He was named Clemson's 2016 ACC Legend although Grayson admits the best part about Clemson was simply being a student and enjoying campus life. He was inducted into the Clemson Hall of Fame in 2009.
THE SPEAKER
A sought-after speaker in a number of disciplines. He has inspired millions across the globe. He has spoken in a dozen countries and almost every state in the US. His audiences range from professional sports to amateur sports, from the small business the fortune 500 company, from the University to the middle school, from the prison to the pulpit, he is relatable and impactful. His impact on audiences leave them wanting more without the over the top emotion. Grayson changes you for the good whenever he is given the opportunity.
---
Connect with Grayson Marshall JR
To learn more about Grayson visit his website and follow him on social media.
---