Curtis Dvorak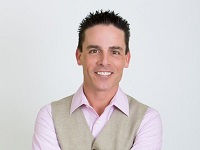 Curtis Dvorak is the co-host of "First Coast Living" part of "First Coast News" in Jacksonville Florida. He has been contributing his unique sense of humor, creativity, and a refreshing take to the news since 2016. Curtis is a huge Jaguars fanatic who loves the beach, is an avid golfer, and spends his free time seeking out any new adventure with his wife and son. He married his lovely wife Jasmine, in the mountains of Costa Rica in 2017 and together they welcomed their first-born son Dax, in 2018.
You may also know Curtis as Jaxson de Ville, as he was the first one to portray the famous mascot of the Jacksonville Jaguars and the one who created his signature antics and dramatic entrances. He took the entertainment of the fans before the game and during breaks to a whole new level. Curtis was loved by all as he embodied Jaxson for nearly 2 decades! When he retired and joined the First Coast News team he was quoted saying, "I'm going to do something I've done for 19 years...entertain Jacksonville...I just won't be covered in fur."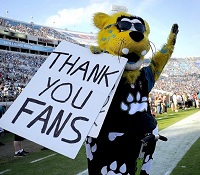 He got his start in the world of mascots when he was selected to be the Virginia Tech's mascot, HokieBird, in his Sophomore year. He also competed in and (of course) won the National Cheerleaders Association championship in 1996. He graduated from Virginia Tech that same year with a major in Communications.
Curtis has a personal reason for his involvement with SafeBeat. His son Dax has a complete canal-type congenital cardiac defect. Read more on his story here.
---
Connect with Curtis Dvorak
"Stay present and love your reality NOW cause who knows if you'll be here then." ~Curtis Dvorak
---