Top 10 Child Heart Health Tips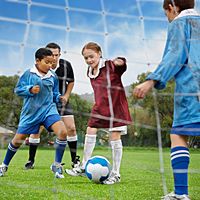 Many people think heart disease is something that happens only to older people. In reality, it can affect people of all ages, including children.
In fact, some babies have inherited conditions that impact their heart health. Others may be born with congenital heart disease, a defect in the structure or function of parts of their heart. Meanwhile, the number of obese children in the United States and around the world continues to rise. Being overweight can also increase a youngster's risk for heart disease. However, there are a number of steps kids can take right now to protect their heart health in the future.
"It is very important to start thinking about heart health beginning in childhood," said Douglas S. Moodie, MD, associate chief of pediatric cardiology at Texas Children's Hospital. "Heart disease is the single biggest killer in the United States and around the world. It's clear the process doesn't begin at 45 or 60 years old. We can identify a constellation of things in young people — such as high blood pressure, obesity, high cholesterol, smoking, and diabetes — which put them at greater risk for early heart attack or stroke. It makes sense to identify these risk factors as early as we can to modify them or eliminate them to reduce children's risk of developing heart disease."
Effects of Congenital Heart Defects
In the United States, more than 35,000 babies are born with congenital heart defects every year. Although some congenital heart defects are not detected until later in life, these structural problems with the heart have already formed by the time a baby is born.
There are many types of congenital heart defects, ranging from mild to severe. These problems can involve the heart's walls or valves or the arteries and veins that supply blood to the heart and other parts of the body.
Some heart defects are simple and can be left untreated, but others are more complex and require medical attention shortly after birth. However, even children with complex heart defects can live an active and normal life thanks to medical advancements that have improved treatments for congenital heart disease.
"In the United States there are more people over the age of 20 with congenital heart disease than people younger than 20 because of the improvements in surgery and follow-up care," noted Dr. Moodie.
Certain treatments for some heart defects, however, could lead to an arrhythmia, or irregular heartbeat. Some heart defects can also cause high blood pressure, which increases children's risk for heart disease.
High Cholesterol, Obesity, and Hypertension: On the Rise in Children
Very high levels of cholesterol can also affect children's heart health. Some children with high cholesterol levels have an inherited condition, known as familial hypercholesterolemia. In these cases, a genetic mutation causes a buildup of LDL cholesterol, also known as "bad" cholesterol," increasing children's risk for heart attack and heart disease at an early age.
The condition, which is not preventable, affects about one in 500 people, according to Moodie. He pointed out that even infants and young children with the condition may have very high LDL cholesterol levels.
"Every child between the ages of 9 and 11 years old should have a fasting lipid profile test — everyone," advised Moodie. The test measures levels of LDL cholesterol as well as HDL, or "good," cholesterol, and triglycerides. He advised that children with a parent who has had a heart attack or stroke be screened even earlier.
Aside from genetics, high cholesterol among children may also be linked to obesity. As Moodie pointed out, the number of obese children continues to rise. "We are about two to three times more obese than 50 years ago," he said.
About one in three American children and teens is currently overweight or obese. The epidemic is causing a slew of health problems among children that previously weren't seen until adulthood, including high cholesterol levels, high blood pressure, and type 2 diabetes, Moodie said.
"It used to be common to see type 1 diabetes, but we would almost never see type 2 diabetes in pediatrics," he said. "Now we see kids with type 2 diabetes every week. There is also no question that childhood hypertension is on the rise."
10 Child Heart Health Tips
Children and their families can take steps every day to protect their heart health and reduce the risk for heart disease. Here are 10 of them:
1. Limit fat, salt, and sugar intake.
2. Eat more fruits, vegetables, fish, nuts, and fiber-rich whole grains.
3. Maintain a healthy weight.
4. Engage in at least 60 minutes of moderate to vigorous physical activity every day.
5. Don't smoke.
6. Get regular physical exams.
7. Be screened. Make sure blood pressure, blood sugar, cholesterol, and triglycerides levels are in check.
8. Get smart and learn about the risk factors for heart disease.
9. Know your family history of heart disease.
10. Make heart health a family affair.
Children should be forming good habits now so they don't have to break bad habits later on, stressed Moodie. He added that parents should play a key role in ensuring that their children are living a heart-healthy lifestyle.
"It's not just kids in isolation — it's the whole family," Moodie said. "We want to get young people exercising, eating a healthy diet, and making sure they don't smoke. Those are things that can last a lifetime and will help prevent heart disease."
---
Story Credit: http://www.everydayhealth.com/heart-health/top-ten-child-heart-health-tips.aspx
---
Since you're here, we have a small favor to ask. Requests from schools and districts for our screening services are growing, which means that the need for funds to cover the cost of those services is also growing. We want to make our services available to those who request it and beyond, so you can see why we need your help. Safebeat heart screenings take a lot of time, money, and hard work to produce but we do it because we understand the value of a child's life, PRICELESS!
If everyone who reads this likes it and helps fund it, our future would be more secure. For as little as $1, you can support Safebeat and it only takes a minute. Make a contribution. -The SafeBeat Team