Three Things to Eat for Better Heart Health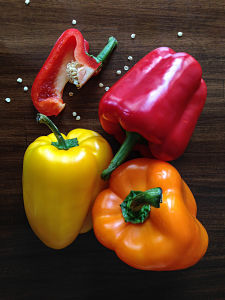 Heart disease has a huge impact on Americans. Nearly half of us are at risk for heart disease, and one in every four deaths is caused by it—making heart disease the leading cause of death in the United States.
The good news: what we eat can help decrease our risk for heart disease or help us manage an existing condition. These three simple guidelines can help you protect your heart:
1. Eat Plenty of Fiber
Fiber acts like a sponge in your intestines, absorbing cholesterol from your diet so it won't be recirculated in your bloodstream. Whole grains, beans, and fruits and vegetables with the skin on are good sources of fiber, including:
Brown rice
Quinoa
Barley
Oatmeal
Whole grain pasta
Whole wheat bread
Berries
Sweet potatoes
Bell peppers
Beans and legumes
Tomatoes
Apples
Carrots
2. Eat Heart-Healthy Fats
Unsaturated fats and Omega 3s can decrease inflammation and cholesterol. They're found in:
Olive oil
Avocado
Nuts & natural nut butters
Fatty fish like salmon and sardines
Flaxseeds
3. Eat Less Salt
Eating too much salt can increase blood pressure, which puts unnecessary stress on our hearts.
Nearly 75 percent of the sodium found in a typical American diet comes from processed foods, so the easiest way to reduce the amount of salt you consume is by eliminating processed and pre-packaged food. When you do buy processed food, look for low sodium or salt-free versions.
And when you cook at home? A good pinch of salt is certainly okay every now and then, but take advantage of other ways to create flavor, too. You'll use less salt when you cook with:
Fresh and dried herbs
Vinegar
Mustard
Lemon/lime juice
Salt-free seasoning blends
---
Story Credit: https://www.projectangelheart.org/three-things-to-eat-for-better-heart-health/
---
Since you're here, we have a small favor to ask. Requests from schools and districts for our screening services are growing, which means that the need for funds to cover the cost of those services is also growing. We want to make our services available to those who request it and beyond, so you can see why we need your help. Safebeat heart screenings take a lot of time, money, and hard work to produce but we do it because we understand the value of a child's life, PRICELESS!
If everyone who reads this likes it and helps fund it, our future would be more secure. For as little as $1, you can support Safebeat and it only takes a minute. Make a contribution. -The SafeBeat Team