Heart Healthy: Sweet Potato Nachos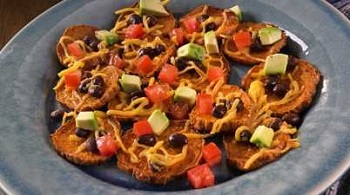 This recipe proves you don't have to give up your favorite game-day dishes to eat heart-healthy meals. Here's a lower-fat version of a true classic.
Ingredients (6 servings)
3 medium sweet potatoes (about 2 pounds), makes about 6 cups of rounds
1 Tbsp. olive oil
1 tsp. chili powder
1 tsp. garlic powder
1 1/2 tsp. paprika
1/3 cup black beans (drained, rinsed)
1/3 cup reduced-fat, shredded cheddar cheese
1/3 cup chopped tomato (1 plum tomato)
-or-
1/3 cup no-salt-added, canned, diced tomatoes (drained, rinsed)
1/3 cup chopped avocado
Preparation
Prep: 10 min.
Ready In: 15 min.
Directions
Preheat the oven to 425°F. Cover the baking pans with foil and coat with nonstick cooking spray.
Peel and slice the sweet potatoes thinly (about quarter-inch rounds). In a bowl, toss the rounds with olive oil, chili powder, garlic powder, and paprika. Spread evenly on prepared pan (might need two pans).
Bake for 10 minutes and use a spatula to flip the sweet potato rounds.
Bake for another 5-10 minutes or until crisp.
Remove the pan from the oven and sprinkle beans and cheese over the sweet potatoes. Return to oven until cheese melts, about 2 minutes. Sprinkle with tomato and avocado. Serve.
Tip: For easy clean-up, line your baking pan with foil before spraying with nonstick cooking spray, allowing you to toss the foil after use. Also, a well-stocked spice cabinet is an easy way to add flavor without added sodium – however, be sure to look for spices and seasoning mixes without added salt.
Nutrition Information
Serving size: 13 sweet potato rounds
Per serving: 209 calories, 5.5 g fat (1.7 g sat, 0.6 g poly, 2.8 g mono), 5 mg cholesterol, 194 mg sodium, 34 g carbohydrates, 6 g fiber, 7 g sugars, 6 g protein
Exchanges: 3 lean meat, 2 ½ starch
---
Story Credit: https://blackdoctor.org/525660/heart-healthy-sweet-potato-nachos/
---
Since you're here, we have a small favor to ask. Requests from schools and districts for our screening services are growing, which means that the need for funds to cover the cost of those services is also growing. We want to make our services available to those who request it and beyond, so you can see why we need your help. Safebeat heart screenings take a lot of time, money, and hard work to produce but we do it because we understand the value of a child's life, PRICELESS!
If everyone who reads this likes it and helps fund it, our future would be more secure. For as little as $1, you can support Safebeat and it only takes a minute. Make a contribution. -The SafeBeat Team