How to Keep Your Heart Healthy in the Summer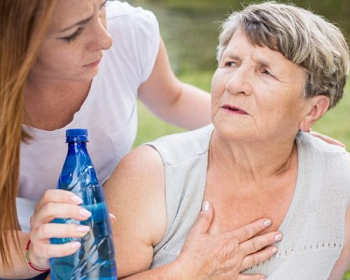 The summer poses unique threats to your health, especially your heart. Summer is hot, which makes it a great time to get out and enjoy ourselves, but that added heat can cause heart problems, especially if you already have an underlying heart problem.
Here are some tips that can keep your heart safe during the summertime.
Summertime Heart Health Tips
Review your medications: Some medications may cause side effects if you spend time in the heat. Speak to your doctor about any possible reactions that can occur as a result, as there may be medication alternatives you can try to reduce your risk.
Stay hydrated: Dehydration can cause a slew of negative side effects and also cause your heart to work harder. This stresses the heart and can increase your risk of a cardiac event. Furthermore, staying hydrated helps balance sodium and potassium, which can affect blood pressure. Therefore, ensure you're drinking plenty of water.
Wear the right clothes: Wearing non-breathable clothes can cause you to overheat. You should be wearing breathable clothes, as it can ensure that sweat is being absorbed and that your skin can breathe.
Be cautious when exercising: The summer allows you to workout outdoors, but you should avoid the hottest hours of the day, which are usually between 10 am and 2 pm. Ensure you're taking frequent breaks and are keeping yourself hydrated.
Eat smaller meals: Eating smaller, more frequent meals will help keep your heart rate steady and foods high in water will keep you hydrated.
Recognize the signs of heat exhaustion: Muscle cramps, heavy sweating, and weakness are signs of heat exhaustion, and if you begin to experience these symptoms, you will want to cool down right away. Head to a cold shower or use cold compresses to bring down your body's temperature quickly before complications arise. If chest pains or shortness of breath occur, call 911 asap.
Whether you have heart problems or not, the heat can cause added stress on the body. By following these tips, you can reduce your risk of health complications.
---
Story Credit: https://www.belmarrahealth.com/keep-heart-healthy-summer/
---
Since you're here, we have a small favor to ask. Requests from schools and districts for our screening services are growing, which means that the need for funds to cover the cost of those services is also growing. We want to make our services available to those who request it and beyond, so you can see why we need your help. Safebeat heart screenings take a lot of time, money, and hard work to produce but we do it because we understand the value of a child's life, PRICELESS!
If everyone who reads this likes it and helps fund it, our future would be more secure. For as little as $1, you can support Safebeat and it only takes a minute. Make a contribution. -The SafeBeat Team