Step Up Your Weekday Lunch Game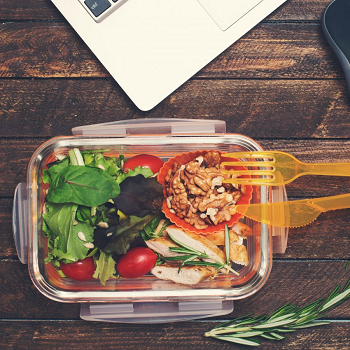 Steer clear of takeout, snack foods, and grab-and-go sandwiches
When midday hunger hits and you realize you have nothing to eat, it's easy to turn to an unhealthy option. "All of us do it. You're grabbing this and grabbing that, and then you end up with poor choices," says chef Biju Thomas, founder of Denver-based restaurant Little Curry Shop and co-author the athlete-focused Feed Zone cookbooks.
If it's not a Clif bar or handfuls of office-kitchen freebies, many people default to wraps and sandwiches. While these are portable and filling, they're also heavy on simple carbs, especially those made using bread without nuts, whole grains, or seeds. That's fine occasionally, but in the middle of a sedentary workday, the energy spike and subsequent crash can wreak havoc on both your productivity and your fitness. "You want something that's substantial and filling, but not all bread," Thomas says. "It's important to pick things that promote focus and don't make you sleepy."
Kelly Bailey Newlon, chef and co-founder of Boulder-based meal service Real Athlete Diets, agrees, adding that your priorities at lunch should be lots of protein for an energy boost and muscle repair, plus fiber to promote digestion and healthy blood-sugar levels.
For lunch ideas that check all those boxes, Thomas and Newlon both suggest a filling twist on the humble salad. You can prep both in advance, and the recipes make large portions, perfect for trying different combos throughout the week.
---
Warm Curry Roasted Root Vegetable Salad
Rather than just a mound of greens, Thomas says we should start to think of a salad as a hearty pile of roasted vegetables and protein. He tops that with spices and seasonings, rather than a heavy dressing.
Thomas' go-to lunch recipe is hearty, relatively inexpensive, and versatile. "You can recreate it a million ways," he says.
Greens
Start with your choice of mixed and/or bitter greens.
Roasted Vegetables
On top of your greens, add any number of roasted vegetables. Anything goes, but Thomas' favorite medley includes:
2 pounds carrots, washed and cut into 3-inch strips
1/2 red onion, cut into thick strips
6 to 10 garlic cloves, smashed
1 medium sweet potato, cubed
3 to 4 jalapeños, cut into thick chunks
1 small bunch parsley, coarsely chopped
Protein
Pile up your favorite protein. Roasted chicken, smoked turkey, grilled tofu, canned beans, tuna, chopped eggs, or carnitas are all great options.
Seasonings
Olive oil
1 tablespoon of your favorite seasonings (Thomas recommends Madras curry.)
Salt and pepper
1/2 fresh lemon
---
Asian-Inspired Grain Bowl
Newlon uses whole grains in her salads for some added fiber and protein to keep her full throughout the afternoon. She also loves toppers that add crunch—some of her favorites are raw vegetables and crisp fruits. She finishes it off with a nut-butter-based dressing.
Grain
1 cup cooked quinoa, rice, noodles, or other grain of your choice
Toppings
1 apple, sliced with peel on
1 avocado, chopped
1/4 cucumber, chopped
4 to 5 leaves each of fresh basil, cilantro, and mint, chopped
Protein
Pick your protein. Newlon suggests tofu, shredded chicken, or shrimp. Opt for six to eight ounces of whatever you choose. The serving should be about the size of your fist.
Dressing
Combine everything below and add to your lunch as needed.
1 tablespoon honey or maple syrup
1 tablespoon peanut butter
1 tablespoon tamari
1/4 teaspoon fresh minced ginger
1/4 teaspoon fresh minced garlic
2 tablespoons fresh lime juice
---
Story Credit: https://www.outsideonline.com/2282636/meal-prep-these-healthy-lunches