Southwestern Quinoa Stuffed Peppers For a Healthy Meatless Monday Meal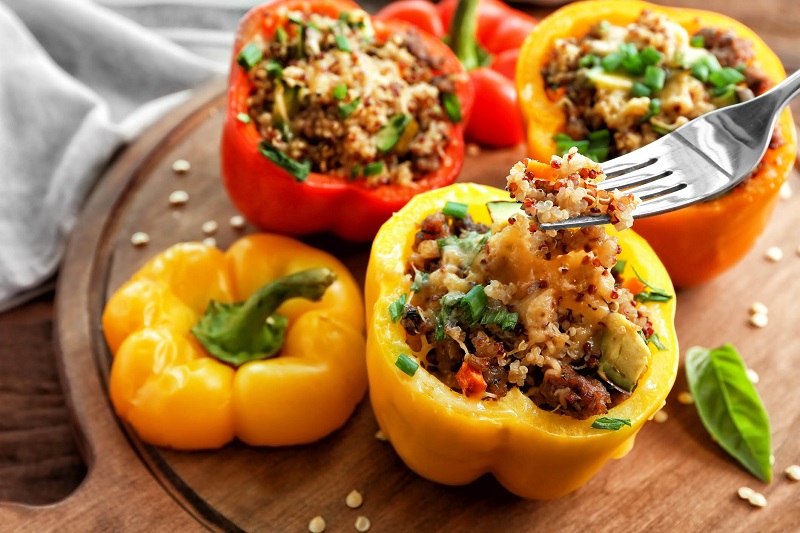 For a healthy meal the entire family will love, try this southwestern take on stuffed peppers recipe - perfect for a Meatless Monday recipe!
Ingredients
1 cup quinoa
1 tablespoon olive oil
1 yellow onion, diced
2 cloves garlic, minced
1 cup low-sodium black beans, drained and rinsed
1 cup frozen cup, thawed
4 cups baby spinach
1/8 teaspoon black pepper
1/8 teaspoon chili powder
1/8 teaspoon paprika
1/16 teaspoon cayenne pepper
1/2 cup low-fat shredded cheddar cheese, divided
4 bell peppers, tops cut off, seeds and ribs removed
Directions
1. Preheat oven to 425°F. Grease an 8 x 8 inch baking dish.
2. Cook quinoa according to package directions. Set aside.
3. Heat oil in a large sauté pan over medium heat. Add onion and cook for 4-5 minutes until softened. Add garlic, black beans, corn and spinach and cook until spinach, lime zest and juice, salt, pepper, chili powder, paprika and cayenne pepper, and cook until spinach is wilted.
4. In a large bowl, combine quinoa, cooked vegetables and 1/4 cup cheddar cheese.
5. Fill peppers with quinoa mixture and place in prepared baking dish, standing up. Top peppers with remaining 1/4 cup cheese and cover with foil.
6. Bake 15 minutes, then remove foil and broil 1-2 minutes until cheese is melted.
Serving Information
4 servings (1 stuffed pepper per serving)
Nutrition Information
382 Calories, 8g Fat (2g Saturated), 3mg Cholesterol, 370mg Sodium, 33g Carbohydrates (14g Fiber, 12g Sugar, 0g Added), 20g Protein, 170% DV Vitamin A, 390% DV Vitamin C, 37% DV Calcium, 57% DV Iron
---
Story Credit: https://www.rwjbh.org/blog/2019/march/recipe-heart-healthy-southwestern-quinoa-stuffed/
---
Since you're here, we have a small favor to ask. Requests from schools and districts for our screening services are growing, which means that the need for funds to cover the cost of those services is also growing. We want to make our services available to those who request it and beyond, so you can see why we need your help. Safebeat heart screenings take a lot of time, money, and hard work to produce but we do it because we understand the value of a child's life, PRICELESS!
If everyone who reads this likes it and helps fund it, our future would be more secure. For as little as $1, you can support Safebeat and it only takes a minute. Make a contribution. -The SafeBeat Team