Southwest Quinoa Black Bean Stir Fry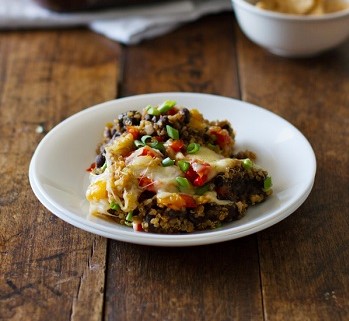 Serves Two
Ingredients:
2 TBS Spanish onion
2 TBS bell pepper
1 tsp. Cumin
¼ cup Quinoa
¼ cup Bulgur (cracked wheat)
1ea small Sweet potato
½ cup Corn
1 cup Black beans
2 TBS plain Greek yogurt
2 Tbsp. cilantro
2 cups low sodium chicken broth
2 limes
Cooking Instructions:
Bring potato, grains and two cups of chicken stock to a boil. Then turn stove down to medium heat. Grains may boil over if covered.
Cook potato and grains 10 to 12 minutes until tender.
Drain and hold. Keep the liquid for the bean mixture.
While potato and grains simmer, use frying pan to sauté onion, pepper and corn and black beans for 3 to 5 minutes.
Add cumin and chili powder if you would like a little heat. Add liquid from grains and sauté mixture for an additional 3 minutes.
Place grains and potato on plate.
Squeeze lime over bean mix. Place corn and bean mixture on grains and top with cilantro Greek yogurt.
---
Article Credit: http://www.9and10news.com/2018/04/13/sneak-peak-spectrum-healthy-eating-seminar-southwest-quinoa-black-bean-stir-fry/