Refried Bean Tostadas With Pico De Gallo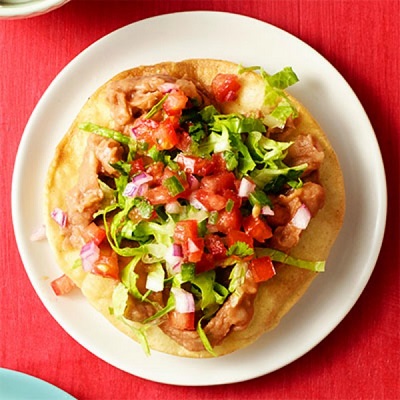 This is a vegetarian take on a delicious Mexican favorite that you can easily enjoy any night of the week.
Total Time: 0:15 Prep: 0:15 Level: Moderate Yield: 4 servings (cost per serving of $0.92) Serves: 4
Ingredients
8 corn tortillas
2 tsp. canola oil
4 plum tomatoes
1 small jalapeño
½ small red onion
2 tbsp. fresh lime juice
kosher salt
Pepper
¼ c. chopped fresh cilantro
1 can refried beans
Shredded romaine lettuce
Directions
Heat oven 425 degrees F. Brush the tortillas with canola oil. Place on baking sheets and bake until just crisp, about 8 minutes, flipping halfway through. Transfer to a paper towel–lined wire rack to cool and harden.
Meanwhile, transfer the refried beans to a microwave-safe bowl and cook on high until heated through, 1 minute, stirring halfway through. In a medium bowl, toss together the tomatoes, jalapeño, onion, lime juice, and 1/4 teaspoon each salt and pepper. Fold in the cilantro. Top the tostadas with the beans, tomato mixture, and lettuce, if desired.
---
Article Credit: http://www.delish.com/cooking/recipe-ideas/recipes/a36232/refried-bean-tostadas-pico-de-gallo-recipe-wdy0514/