Recipe: Heart-Healthy Banana Mousse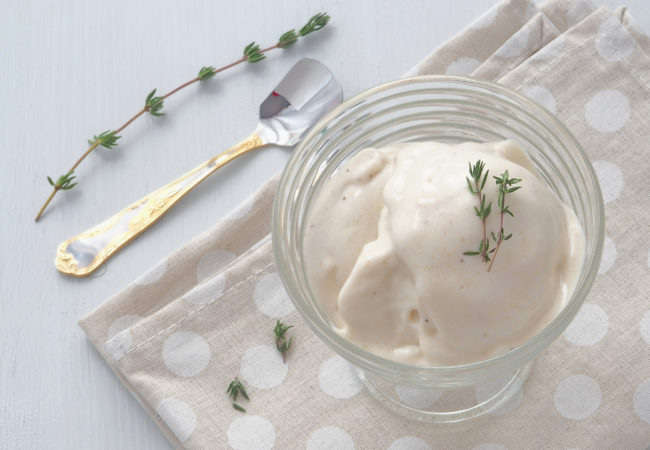 For a creamy dessert your guests will love, try our heart-healthy banana mousse. The bananas are a rich source of potassium, the fat-free Greek yogurt packs a protein punch, and this dessert has zero saturated fat.
Ingredients
2 tablespoons low-fat milk
3 teaspoons stevia (can substitute maple syrup or agave nectar)*
1 teaspoon vanilla
1 medium banana, cut in quarters
1 cup plain fat-free Greek yogurt
8 slices (1/4 inch each) banana
Directions
Place milk, sugar, vanilla, and banana in blender.
Process for 15 seconds at high speed until smooth.
Pour mixture into small bowl, and fold in yogurt. Chill.
Spoon into four dessert dishes. Garnish each with two banana slices just before serving.
Nutrition information
Makes 4 servings
Per serving (½ cup):
Calories: 80
Fat: 0g
Saturated fat: 0g
Cholesterol: 0mg
Sodium: 30mg
Protein: 6g
Carbohydrate: 15g*
Sugars: 10g*
Dietary fiber: 1g
Potassium: 297mg
*Substituting maple syrup or agave nectar for the stevia provides about 88 calories, 22g carbohydrate and 12g sugars.
---
Story Credit: https://health.clevelandclinic.org/2017/12/recipe-heart-healthy-banana-mousse/