Quinoa With Roasted Red Pepper, Green Beans, And Red Onion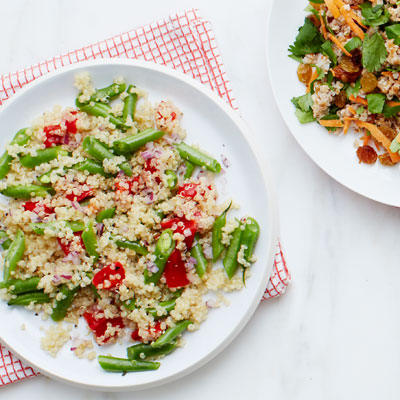 Protein-packed quinoa is a great pick for the starring grain in this vegetarian dish.
Total Time: 0:20 Prep: 0:10 Level: Easy Serves: 6
Ingredients
1 c. quinoa
kosher salt
Pepper
2 jarred roasted red peppers
4 oz. green beans
½ red onion
1 tbsp. olive oil
2 tsp. red wine vinegar
Directions
In a medium saucepan, combine quinoa with 2 cups water. Bring to a boil, add 1/2 teaspoon salt, then reduce heat and simmer, covered, until all the liquid has absorbed, 15 to 20 minutes. Fluff with a fork to separate the grains.
Meanwhile, in a large bowl, whisk together the oil, vinegar, and 1/4 teaspoon each salt and pepper. Add the red peppers, beans, and onion and toss to combine. Add the prepared quinoa and toss to combine.
---
Article Credit: http://www.delish.com/cooking/recipe-ideas/recipes/a35327/quinoa-roasted-red-pepper-green-beans-red-onion-recipe-wdy0213/