Preventive Heart Health for Kids – Exercise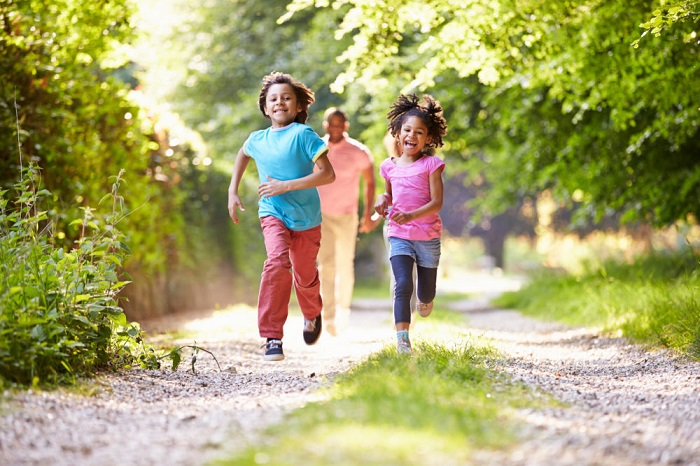 It's important for every child to participate in daily physical activity. Below, Katie Baschen, MS, Exercise Physiologist at Lurie Children's Heart Center, provides tips on how parents can get their kids moving.
Starting an Exercise Plan
First, you need some motivation! Make a specific goal and try to reach it over the course of 3-6 months. A goal can be anything from "decrease my blood pressure" to "finish a 5k race over the summer." Setting a goal gives you purpose to exercise and can give you satisfaction once you achieve it.
Why do you need to exercise and what are the benefits? Here are just a few benefits that exercise has for both children and adults:
Maintains or lowers blood pressure at rest and with exercise
Maintains or lowers heart rate at rest and with exercise
Helps with weight control (along with a healthy diet)
Maintains or lowers blood cholesterol levels
Strengthens skeletal and cardiac muscle. Improves skeletal and cardiac muscles' abilities to utilize oxygen circulating through your body, allowing your body to be more efficient
Decreases the risk of developing type two diabetes by using stored glucose in the body, reducing blood sugar levels
Reduces stress, which can keep your heart rate low
Improves sleep
IT IS FUN!
FITT Principle
Frequency: How often should my child be physically active?
Aerobic exercise: Every day! Whether your child is 2 or 18 years old, they should participate in some form of physical activity every day.
Muscle and bone strengthening: At least 3 days each week.
Intensity: How hard should my child be working?
Their physical activity should range from moderate to vigorous levels of intensity. These levels are described as an elevation in heart rate over a prolonged period of time. Moderate exercise would be 50-70% of heart rate max, with vigorous exercise being 70-85% of heart rate max.
Time: How long should my child be active for each day?
At least 60 minutes of activity each day. This can be aerobic exercise or a combination with muscle and bone strengthening. The 60 minutes of activity can be done all at once or accumulated over the day. However, physical activity has the most health benefits when your child's heart rate is elevated for a prolonged period of time.
Type: What type of exercises can my child do?
Aerobic
Running
Playing tag
Biking
Soccer
Basketball
Dancing
Brisk walking
Jumping rope
Burpees
Jumping on trampoline
Skateboarding
Rollerblading
Kick boxing
Muscle and Bone strengthening
Muscles
Push ups
Sit ups
Planks
Squats
Bridges
Lunges
Bones
Jumping rope
Running
Hopping
Skipping
Gymnastics
Basketball
Volleyball
…and many more!
Starting something new and making a commitment can be daunting but starting an exercise plan the whole family can participate in is a great way to spend time together and achieve a healthier lifestyle!
Get the whole family involved! Exercise with your children and encourage them to participate
Make sure children are adequately hydrate before, during and after exercise
Wear gym shoes and appropriate clothing for exercise
Check out local park districts or activities at school for physical activity programs
If your child has a cardiac health history, check with your pediatrician prior to starting an exercise program
If your child experiences any symptoms while exercising (i.e. chest pain, difficulty breathing, dizziness or fainting) please contact your pediatrician
---
Story Credit: http://blog.luriechildrens.org/2018/02/preventive-heart-health-for-kids-exercise/