Overnight Oatmeal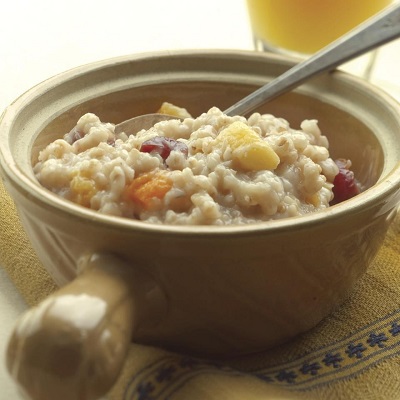 Here is an easy way to serve a crowd a hearty breakfast before facing the elements for a day of winter sports. You can assemble it in the slow cooker in the evening and wake up to a bowl of hot, nourishing oatmeal. The slow cooker eliminates the need for constant stirring and ensures an exceptionally creamy consistency. It is important to use steel-cut oats; old-fashioned oats become too soft during slow-cooking.
Ingredients
8 servings
8 cups water
2 cups steel-cut oats, (see Ingredient note)
⅓ cup dried cranberries
⅓ cup dried apricots, chopped
¼ teaspoon salt, or to taste
Preparation
Active 5 minutes
Ready In 8 hours
Combine water, oats, dried cranberries, dried apricots and salt in a 5- or 6-quart slow cooker. Turn heat to low. Put the lid on and cook until the oats are tender and the porridge is creamy, 7 to 8 hours.
Stovetop Variation
Halve the above recipe to accommodate the size of most double boilers: Combine 4 cups water, 1 cup steel-cut oats, 3 tablespoons dried cranberries, 3 tablespoons dried apricots and ⅛ teaspoon salt in the top of a double boiler. Cover and cook over boiling water for about 1½ hours, checking the water level in the bottom of the double boiler from time to time.
Ingredient Note: Steel-cut oats, sometimes labeled "Irish oatmeal," look like small pebbles. They are toasted oat groats—the oat kernel that has been removed from the husk—that have been cut in 2 or 3 pieces. Do not substitute regular rolled oats, which have a shorter cooking time, in the slow-cooker oatmeal recipe.
For easy cleanup, try a slow-cooker liner. These heat-resistant, disposable liners fit neatly inside the insert and help prevent food from sticking to the bottom and sides of your slow cooker.
People with celiac disease or gluten-sensitivity should use oats that are labeled "gluten-free," as oats are often cross-contaminated with wheat and barley.
Nutrition information
Serving size: 1 cup
Per serving: 188 calories; 3 g fat(0 g sat); 9 g fiber; 34 g carbohydrates; 6 g protein; 0 mcg folate; 0 mg cholesterol; 6 g sugars; 0 g added sugars; 225 IU vitamin A; 0 mg vitamin C; 30 mg calcium; 2 mg iron; 80 mg sodium; 197 mg potassium
Carbohydrate Servings: 2½
Exchanges: 2 starch, ½ fruit
---
Article Credit: http://www.eatingwell.com/recipe/251749/overnight-oatmeal/