One Fish, Two Fish … Heart Healthy Heroes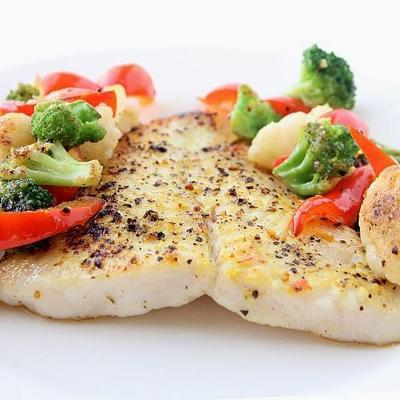 February is American Heart Month.
Your heart health is dependent on your lifestyle habits. One of the most important behaviors is diet. One specific dietary habit in need of improvement in Americans' eating patterns is increasing consumption of seafood.
Current advice from our government and national health organizations recommends eating two seafood meals each week. One serving of seafood is considered 3.5 ounces or three-quarters cup of flaked fish. That's about the size of a checkbook. This February make it a goal to take a healthy heart pledge and eat seafood twice each week. If you are finding it hard to eat seafood even once a month, start small.
Make it a goal to eat seafood once a week and work your way up to our heart-health goal of twice weekly.
Here are a few dietitian tips to get your pledge started:
• Start with a mild-tasting fish: Develop a taste for fish. Tilapia is a good choice. It has a mild, somewhat sweet flavor and pleasant aroma. It flakes easily and can be prepared in numerous ways. Other mild fish to try include swai, crab chunks and shrimp.
• Prepare fish with a favorite flavor: Swap out traditional protein sources in your favorite dishes with fish. Try tilapia fish tacos, shrimp stir-fry or pesto salmon with cheese tortellini.
• Try serving with dips: cocktail sauce, ranch dressing or tartar sauce may help ease you into liking the flavor of fish. Just watch your serving size because condiments in excess amounts can lead to hidden extra calories.
• Add crunchy coatings: Fish with a crunch may have more appeal. Try topping fish with crushed crackers, bread crumbs or cereals.
Besides during American Heart Month, we should be eating more fish and shellfish year-round. Why?
Eating seafood may reduce inflammation in your body, improve circulation and prevent you from getting heart disease.
Seafood contains healthy nutrients, such as omega-3 fatty acids, iron and B-vitamins.
A serving of seafood is lower in saturated fat than the same serving size of other animal protein foods.
Hy-Vee makes it easy for you to make healthy seafood choices. Our fresh seafood cases have recently introduced Fair Trade Certified yellowfin tuna as part of our Responsible Seafood Program.
This fish is caught or farmed safely, providing for its long-term viability and minimizing damage to the environment or other sea life.
Not only is this tuna environmentally friendly, it has one of the highest levels of heart healthy omega-3 fats than any other fish.
Do something good for your heart and the environment and choose Fair Trade Certified yellowfin tuna.
---
Pistachio-Crusted Tuna Steaks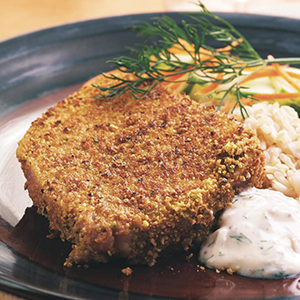 Serves 4
All you need
•1 tbsp thinly sliced shallot
•1 bay leaf
•1/2 cup white wine
•3 tbsp reduced-fat sour cream
•2 tsp lemon juice
•2 tsp chopped fresh dill, divided
•1 tsp whole-grain mustard
•1/2 tsp salt, divided
•1/4 cup coarse dry breadcrumbs, preferably whole-wheat (see note)
•1/4 cup shelled pistachios
•4 (4 oz each) tuna steaks, 1 to 1¼-inches thick
•1 tsp Hy-Vee Select extra-virgin olive oil
All you do
Place shallot, bay leaf and wine in a small saucepan and bring to a boil. Reduce until the wine is almost evaporated, about 5 minutes.
Remove from the heat, discard bay leaf and transfer to a small bowl. Add sour cream, lemon juice, 1 teaspoon dill, mustard and 1/4 teaspoon salt; stir to combine.
Put breadcrumbs, pistachios, the remaining 1 teaspoon dill and 1/4 teaspoon salt in a blender or food processor. Process until finely ground. Transfer to a shallow bowl. Dredge both sides of the tuna in the pistachio mixture.
Heat oil in a large nonstick skillet over medium heat. Add the tuna and cook until browned, adjusting the heat as necessary to prevent burning, 4 to 5 minutes per side for medium-rare. Serve with the lemon-dill sauce.
This information is not intended as medical advice. Please consult a medical professional for individual advice.
---
Story Credit: http://www.austindailyherald.com/2017/02/one-fish-two-fish-heart-healthy-heroes/