Go Nuts for Heart Health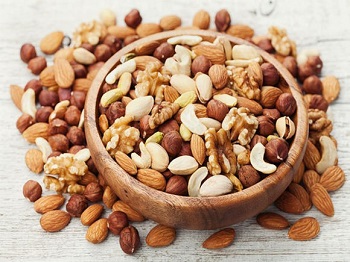 TUESDAY, April 17, 2018 (HealthDay News) -- The crunchy goodness of peanuts, walnuts, cashews and other nuts may be just what the cardiologist ordered, new research suggests.
The study couldn't prove cause-and-effect. However, the analysis of health data on more than 61,000 Swedes aged 45 and older found regularly eating nuts was tied to lower risks for heart failure and an irregular heartbeat, known as atrial fibrillation ("a-fib").
One U.S. heart expert said it's fine to include the food in your diet.
"There certainly is no harm, as nuts -- in moderation -- are a healthy sort of protein compared to other diets and possibly can be associated with better cardiovascular health," said Dr. Rachel Bond. She helps direct women's heart health at Lenox Hill Hospital in New York City.
In the new study, a team led by Susanna Larsson of the Karolinska Institute in Stockholm tracked the health of the study participants for 17 years or until death, whichever came first.
After factoring out age and gender, along with several other well-known heart risk factors -- lifestyle, overall diet, diabetes and family history -- high nut consumption was tied to lower odds for a-fib and heart failure.
The more often people ate nuts, the lower their risk of a-fib, the investigators found.
Specifically, the risk of the stroke-linked heart rhythm disorder was 3 percent lower among those who ate nuts one to three times a month; 12 percent lower among those who ate nuts once or twice a week; and 18 percent lower among those who ate nuts three or more times a week, Larsson's group reported.
Moderate weekly consumption of nuts was also associated with a 20 percent lower risk of heart failure, according to the study published online April 17 in the journal Heart.
The study was funded by the Swedish Research Council and the Swedish Stroke Association.
Overall, "nut consumption, or factors associated with this nutritional behavior, may play a role in reducing the risk of atrial fibrillation and possibly heart failure," the researchers concluded.
The study authors explained that nuts are rich in healthy fats, minerals and antioxidants, all of which may aid heart health.
But Bond offered up one nutritional caveat: "I would caution my patients that they should not eat salted nuts, especially those who have high blood pressure or a history of heart failure," she said.
Dr. Marcin Kowalski directs cardiac physiology at Staten Island University Hospital in New York City. He agreed that nuts contain many valuable nutrients and have been shown to have "anti-inflammatory properties."
But he stressed that the study couldn't prove causation, and so more research would be needed to confirm that this food type directly boosts heart health.
---
Story Credit: https://consumer.healthday.com/cardiovascular-health-information-20/atrial-fibrillation-959/go-nuts-for-heart-health-732994.html