New Toolkit Can Help You Have A Healthier Life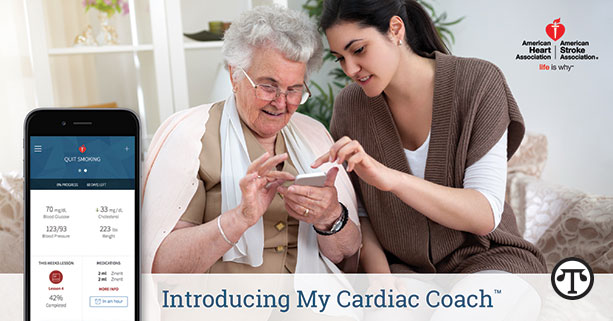 (NAPSI)—Nearly 30 million Americans have been diagnosed with heart disease, according to the Centers for Disease Control and Prevention. If one of them is you or someone you care about, you may feel confused about how to go about it. Research by the American Heart Association (AHA) and the American Stroke Association has shown that many heart attack survivors have trouble understanding their condition, sticking to their treatment plan and making the lifestyle changes necessary to prevent a recurrent heart attack. And then about a fifth of them over the age of 45 will have another heart attack within five years. Fortunately, the AHA has come up with a solution.
It developed a free mobile app that can help you find your way to a healthier future. Called My Cardiac Coach, it's a personalized toolkit that people recovering from heart attacks can carry in their smartphones. It gives anytime, anywhere access to:
• Trustworthy information from the experts at the American Heart Association
• Interactive lessons to help you know what you need to, including how to ask your doctor questions about everything from nutrition to exercise to medicine
• Progress trackers for monitoring blood pressure, weight and cholesterol
• Tools for logging physical activity and managing medications
• Connections to other survivors through social media and AHA's own support network.
It's designed to be a one-stop shop in aiding recovery and reducing recurrent heart attacks through better self-management skills and personal goal setting.
Doctor's Opinion
"It gives patients a whole variety of easy-to-use tools," said John Osborne, M.D., Ph.D., a cardiologist, researcher and founder of State of the Heart Cardiology.
Dr. Osborne, who tested My Cardiac Coach for AHA, said trying to recover from a heart attack can be confusing in the information age.
"After a catastrophic event occurs, patients have no idea where to start. And if you go on the Internet, you find an information tsunami with different opinions across a whole spectrum of data," he added.
"This app is very intuitive and educational. It walks people through a variety of topics related to cardiovascular disease, boils down the information and makes it easy for a layperson to understand. And it's all there right on your phone.
"After a heart attack, many patients have other heart- and stroke-related conditions, including high blood pressure, high cholesterol and diabetes. One of the most important features is a way to keep track of medications needed to treat a wide range of conditions," Dr. Osborne said.
"Reminders pop up to tell you to take your medication at the appropriate amount and time, which is really helpful," he explained. "A big issue for some people after a heart attack is they're going very quickly from taking no medications to trying to remember to take a handful of different medications a day.
"Putting people together with others who've had similar experiences is extremely helpful, psychologically," Dr. Osborne added. "It makes you feel you're not alone."
Heart attacks are unique to each individual—and so is the recovery process. The app serves as a personalized recovery kit to help all types of people, no matter if they had a heart attack last week or several years ago.
---
Story Credit: http://www.napsnet.com/articles/72584.html