New Oral Health Initiatives Provide Greater Health Both In The Dental Clinic, And Without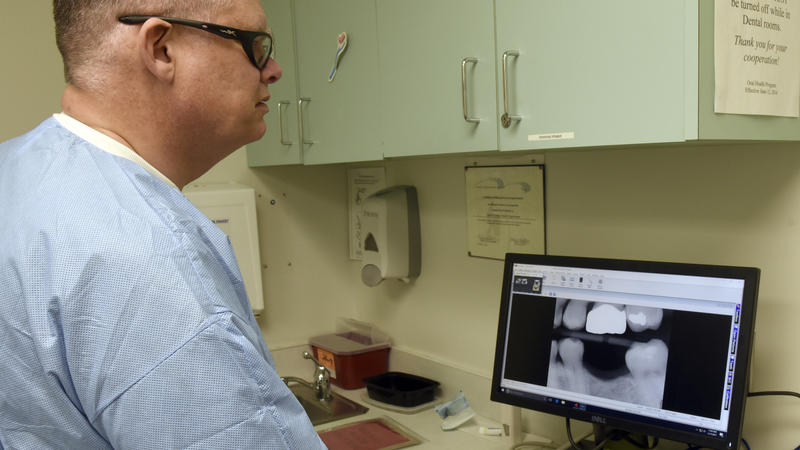 The Oral Health program at the Carroll County Health Department has two new initiatives, one that is expected to improve the patient experience at its pediatric dental clinic and another that aims to improve heart health through the county.
In the clinic, the big advance is new direct-to-digital X-ray technology, which David Williams, manager of oral health programs, said uses a fully digital sensor system rather than simply digitizing an X-ray film.
"The advantages of the digital radiography for the patient is that the level of radiation is cut by about 90 percent," he said. "The direct advantage for the dentist is that the images are projected on a 20-inch screen rather than the old 2.5-by-1-inch films."
These images are captured and displayed almost instantly, Williams said, so that if the first image isn't quite right, "it's easy to adjust because you haven't taken the film out and broken everything down." This will lead to faster and smoother appointments in the clinic, which serves children with Maryland Health Smiles insurance up to the age of 18, and as of January, pregnant women of all ages.
"Oral disease is transmitted vertically from mother to kid," Williams said. "If we can get the mothers healthy, then the chances of the kids getting oral disease are much less."
The new radiography technology was purchased with a $70,000 grant from the Maryland Community Health Resources Commission, according to Williams, and it utilizes software with certain advantages. Not only does it satisfy federal requirements for electronic health records and allow for more legible record-keeping than taking notes in charts by hand, he said, but it will make it easier to share records, and X-ray images, with other dentists and care providers.
"The images also can be sent by email to other health care professionals, providing a superior image," Williams said. "If there are services we don't provide — [for example] if they have wisdom teeth that need to be taken out by an oral surgeon — we can send the information directly to them."
The new X-ray technology has been up and running since the end of March.
Another grant, this one from the Bureau of Chronic Disease Prevention at the Maryland Department of Health and Mental Hygiene, has provided funding for a second new program involving dental providers, but not dentistry itself.
"We are educating private dentists in the community and providing them with resources to take blood pressure readings on their adult patients and also determine if in fact they use tobacco," Williams said. "If they fall into certain categories, they are referred to the tobacco quit line, or if their blood pressure screenings fall into certain ranges, they are referred to their primary care physician for a follow up."
Why take blood pressure at the dentist's office? Despite several decades of public health messaging about high blood pressure, hypertension, being a risk for heart attack and stroke, many people remain undiagnosed.
"Hypertension is a classic example of something that doesn't have symptoms typically, so people walk around with hypertension and they don't know it," said Maggie Kunz, health planner with the Health Department. "Other diseases may cause some noticeable symptoms and then people might seek care."
And many adults simply do not go to the doctor unless they feel sick, according to Dr. Henry Taylor, deputy health officer at the health department. But they do go to the dentist.
"By going to the dental offices where blood pressure is not routinely done, we are hoping to pick up that portion of the population that is undiagnosed," Taylor said. "It's part of what public health does, which is to go out and find the people who are at risk, who don't know they are at risk, and get them plugged in to the services that they need."
For more information about the Carroll County Health Department dental clinic or to make an appointment, visit cchd.maryland.gov/dental-clinic/ or call 410-876-4918. Services are available for children 18 and younger or pregnant women of any age.
---
Story Credit: http://www.baltimoresun.com/ph-cc-healthdepartment-dental-xray-20170528-story.html