Mediterranean Diet Offers Heart-Healthy Benefits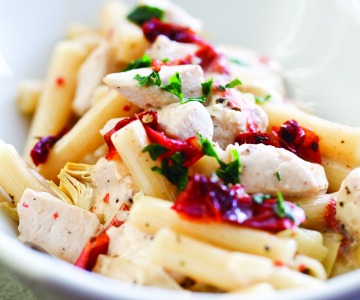 A traditional Mediterranean diet based primarily on plant-based foods has been shown to reduce the risk of heart disease. It has been associated with a reduced risk of cardiovascular death, cancer and Parkinson's and Alzheimer's diseases.
This diet includes lots of fruits and vegetables, as well as whole grains, beans and nuts. It limits red meat to no more than a few times a month and recommends eating fish and poultry at least twice a week. It replaces butter with olive oil and canola oil and uses herbs and spices instead of salt to flavor foods. Try this delicious recipe as part of your heart-healthy lifestyle.
Greek chicken penne
Ingredients
1 (16 ounce) package whole grain penne pasta
1 ½ tablespoons olive oil
½ cup chopped red onion
2 cloves garlic, minced
1 lb. skinless, boneless chicken breast halves – cut into bite-size pieces
1 (14 ounce) can artichoke hearts in water
1 tomato, chopped
½ cup crumbled feta cheese
3 tablespoons chopped fresh parsley
2 tablespoons lemon juice
1 teaspoon dried oregano
Dash ground black pepper
Instructions
In a large pot with boiling water, cook penne pasta until al dente or firm. Drain.
Meanwhile, in a large skillet over medium-high heat, add olive oil, onion and garlic and cook for two minutes. Add chicken and continue cooking, stirring occasionally until golden brown, about five to six minutes.
Reduce heat to medium-low. Drain and chop artichoke hearts and add with chopped tomato, feta cheese, fresh parsley, lemon juice, dried oregano, black pepper and drained pasta to the large skillet. Cook until heated through, about two to three minutes. Serve warm.
Nutrition facts per cup with percent daily value: 360 calories, 8g fat (10% DV), 48g carb (17% DV), 6g fiber (20% DV), 0g added sugar (0% DV), 500mg potassium (10% DV)
---
Story Credit: https://www.samhealth.org/about-samaritan/news-search/2017/05/30/mediterranean-diet-offers-heart-healthy-benefits