Many At High Risk Still Ignore Heart Health Advice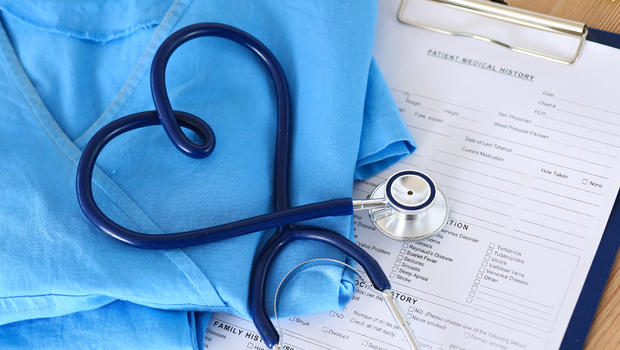 Even though heart disease is often preventable, nearly one out of five people at high risk for a heart attack don't think they need to change their health habits, a new study shows.
Researchers say at least 90 percent of heart attack risk is due to factors that people can act on to improve their odds, including smoking, high blood pressure, diabetes, abdominal obesity, stress, alcohol consumption, and poor exercise and diet habits.
The study is based on data from more than 45,000 adults who participated in the 2011-2012 Canadian Community Health Survey.
People with five or more of those risk factors were considered to be at highest risk for having a heart attack. And strikingly, almost 18 percent of them told researchers they did not feel a need to do anything to improve their health.
Even though most people in that highest risk group tended to agree that they needed to take steps to improve their health, more than half (55 percent) said they experienced barriers that interfered with making more heart-healthy choices.
They cited a lack of self-discipline, their work commitments and family responsibilities as issues that got in the way of better health habits. Having a disability, health problems, money, and stress also made it difficult for some.
"Understanding what motivates changes in behavior is key to improving the health of individuals and communities," lead study author Dr. Daniel Ramirez, a research fellow at the University of Ottawa Heart Institute in Ontario, Canada, said in a statement.
Overall, the study found:
Almost 74 percent of participants believed there was something they could do to improve their health.
More than 90 percent of those who named a specific change said they wanted to quit or reduce smoking, exercise more, lose weight or eat better.
81 percent who wanted to make a change said they would try to do so in the year ahead.
Older and white participants were more interested in improving their heart health habits compared to younger and minority survey participants.
The study also showed that people with diabetes and high blood pressure did not believe they needed to increase healthy behaviors and cut out unhealthy behaviors any more than people without those conditions.
When it comes to high risk patients, heart specialists say lack of motivation is a familiar problem.
"We see this all the time. I think it's really multifactorial," Dr. Daniel Bensimhon, medical director of the Advanced Heart Failure and Mechanical Circulatory Support Program at Cone Health in Greensboro, North Carolina, told CBS News.
"People think, 'It just won't happen to me. My grandfather smoked every day and lived to 95,'" said Bensimhon, who was not involved in the study.
The stress of everyday living can get in the way.
"They're thinking about how to get the kids home from school, what they are going to make for dinner tonight, what's going to happen at work tomorrow. Their health is the one thing they've always counted on, but suddenly you're 20 years down the road and you realize you just haven't taken care of yourself," Bensimhon said.
The harm accumulates over time, and isn't always obvious day to day. High blood pressure, high cholesterol and diabetes over the years creates vascular inflammation, atherosclerosis and kidney damage.
"It's like glaciers melting an inch every day. You just don't notice it until the glacier is gone," he said.
Dr. Chip Lavie, medical director of Cardiac Rehabilitation and Preventive Cardiology at John Ochsner Heart and Vascular Institute in New Orleans, told CBS News, "The study quantifies in a large population that was well-studied what many would have predicted: Many people exist in a state of denial."
Lavie believes health education in early in life can help people reduce their risk for heart disease later.
"Efforts early to prevent and reduce things like physical inactivity, bad diets that promote weight gain — which would largely be prevented by high physical activity and regular exercise — and efforts in early years to prevent smoking," said Lavie.
But there's hope even for those at high risk, Bensimhon said.
"Realize that it's never too late to make a change, even after you have an event. There are studies now that show cholesterol medications and very targeted stress reduction actually reduce plaque," he said.
Quitting smoking can improve lung function, he added.
Regular checkups and sharing your family history with your doctor are important, too.
"It's not just what you do but who you are," said Bensimhon.
---
Story Credit: http://www.cbsnews.com/news/high-risk-for-heart-attack-diet-exercise-health-habits/