Joy Bauer On How To Improve Your Heart Health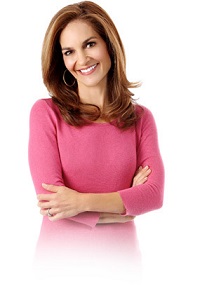 Joy Bauer nutrition and health expert for NBC's TODAY show will quickly become one of your favorite people and go-to girls for all things health if she isn't already. Her warm effervescent spirit shines as she speaks with ease and expansive knowledge in honor of Heart Health Month. In our interview Joy shares ways to strengthen your heart health, how to create tasty family-friendly meals on a budget and keep your waistline in formation.
Joy says the important thing to remember regarding heart health is, "Heart smart eating, [meaning] knowing your numbers and going to your physician." We should all be vigilant about our blood-pressure, cholesterol, weight and smoking habits. While also seeking out the best tools for our health in, "Food, fitness, prevention, and wellness." That all sounds good right? But how do we start if we're clueless?!
We can all begin by focusing on a heart healthy diet and eating meals filled with plant-based foods. Joy states if we "incorporate vegetables, vitamins, minerals and nurture our entire body" we will get on track. She also believes in the power of CocoaVia a supplement that uses the highest concentration of cocoa flavanols. It increases healthy blood flow, heart elasticity and can be added to anything like smoothies or coffee.
In her book From Junk Food to Joy Food she details how we can still enjoy some of our favorite foods while keeping heart health conscious. And truth be told even I was a bit skeptical about some of the food swaps cause I ain't giving up pizza! But I have to admit one of my favorite recipes I tried with the family is her Cauliflower Pizza Crust. The trick to making it perfect and similar in texture to a flour crust is to squeeze out all of the excess water and spread it out so it's thin getting that extra crunch we all want.
If you're on a budget and desire to eat healthier Joy has a way to solve that too.
Make A Plan: "Be thoughtful and mindful about what you're buying."
Frozen Foods Are your Friend: "Double your recipes and put one in the freezer. Take advantage of frozen vegetables for out of season."
Buy Beans: "Add a can of rinsed drained beans to a meal to make it stretch."
But her number one tip for staying on track in your health goals and saving money, especially for families and moms on the go, "Embrace your slow cooker!! It's the same as having a personal chef." Literally set it and go on with your day. Now THAT sounds like a delicious plan to me. After this interview, I immediately threw a can of coconut milk, two cans of rinsed garbanzo beans, and some curry seasonings in my slow cooker. Hello Heart Health Month we're ready for you!
Joy can be seen lending her expertise on The Today Show and on her brand new PBS Special airing nationwide spreading a wealth of health everywhere! For more information about Joy visit her website JoyBauer.com
---
Story Credit: http://www.huffingtonpost.com/entry/joy-bauer-on-how-to-improve-your-heart-health_us_58a71a75e4b0b0e1e0e209ce