Heart Healthy Lifestyle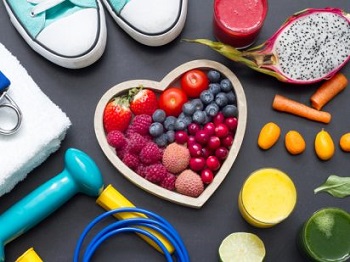 Heart Healthy Eating
Think before you eat or drink and make healthy choices:
Eat more fresh, frozen, or canned fruits and vegetables, whole grain foods, brown rice, and whole wheat bread and cereals. Limit processed foods. Avoid sweets and sugary beverages. Snack on fruits, vegetables, nuts, and seeds. Limit red meats and eat more skinless chicken and turkey, fish, and legumes. Use healthy fats: olive oil, canola, corn, peanut, safflower, soybean, and sunflower.
Limit your portions to the appropriate serving size:
Serving sizes are:
1 slice of bread or 1/2 of a bun
1/2 cup rice or pasta (cooked)
1 small piece of fruit (super-large apples are 2 + servings)
1/2 cup fruit juice
1 cup milk or yogurt
2 oz. cheese (about the size of a domino)
2 – 3 oz. meat, poultry, or fish (this is about the size of a deck of cards)
Be more active. Try to be active at least five hours a week. Start slow with short periods of activity and gradually increase. Walk the hall in your apartment, building, or the mall; dance while you are cleaning; put your treadmill or exercise bike in front of your TV. If you are limited in how long you can be up moving, try getting up every hour and walk around your house for 10 minutes or try chair exercises. Find what you enjoy doing best. Find a friend to walk with or meet for a fitness class.
Seven ways to boost your activity level from the American Heart Association:
Grab the leash and walk your dog. Your body – and your pooch – will thank you!
Take your kid (or your spouse) for a walk. It's an excellent way to get some face time without screens. Keep it fun by exploring new neighborhoods or turning your walk into a scavenger hunt.
Hit the mall. Are you shivering (or sweating) at the idea of walking outside? Take a fast stroll around the mall instead. Window shop, people watch, and get active in a climate-controlled environment.
Walk and talk. Even if you're glued to your phone for work calls, you don't have to be glued to your chair. Make it a habit to talk and walk. Some workplaces have walking paths to make it even easier to burn while you earn.
Tune into fitness. Retrain your inner couch potato. Walk or jog in place, do yoga or lift weights, or walk on the treadmill at the gym while you watch your must-see TV shows.
Ditch the car. Spare yourself the parking stress and log some more active time by parking farther away (or even leaving the car at home) and walking or biking to your destination.
Take the stairs. The elevator may go up – but it doesn't make your heart rate climb. Take the stairs when you can, even if just for a floor or two. And don't ride the escalator – climb it. Those can be active steps, too.
When you start looking for them, you'll see lots of opportunities to be more active every day and get a few more steps in during everyday activities. Remember, every step counts!
Be Healthy Overall
Get enough sleep. Try to sleep seven to nine hours each night. Keep a regular sleep pattern. Shut off the lights as bright lights interfere with sleep. Try to go to sleep and wake up the same time each day. Shut off your phone to avoid being awakened by notifications. Not getting enough sleep can affect how fast you respond to a situation. Lack of sleep increases your risk for hypertension, obesity, Type 2 diabetes, and stroke. It can affect how your body fights infection.
Manage your stress. Read a book, take a walk, do yoga, work in the garden, play music, or create an art project. Take time to be outside enjoying an activity or being out in nature. Spend time with friends or family. Exercising or spending time with a pet are great ways to relieve stress.
Stop smoking.
---
Story Credit: https://www.trinityhealth.org/heart-healthy-lifestyle/
---
Since you're here, we have a small favor to ask. Requests from schools and districts for our screening services are growing, which means that the need for funds to cover the cost of those services is also growing. We want to make our services available to those who request it and beyond, so you can see why we need your help. Safebeat heart screenings take a lot of time, money, and hard work to produce but we do it because we understand the value of a child's life, PRICELESS!
If everyone who reads this likes it and helps fund it, our future would be more secure. For as little as $1, you can support Safebeat and it only takes a minute. Make a contribution. -The SafeBeat Team