Heart Healthy Baked Chicken Recipe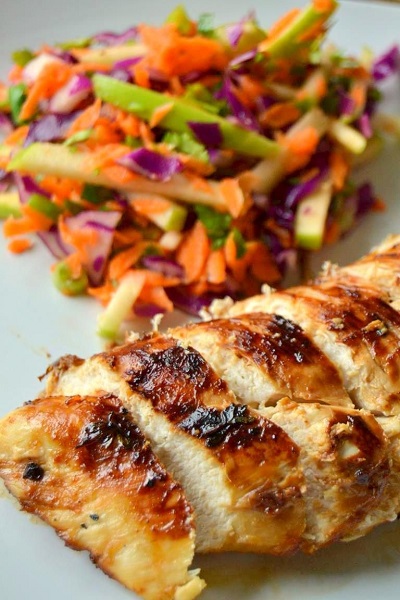 Eating heart healthy foods throughout the week can help improve your overall cardiovascular health. A heart healthy diet includes a variety of:
fruits and vegetables,
whole grains,
low-fat dairy,
skinless poultry and fish,
nuts and legumes, and
non-tropical vegetable oils.
In this heart healthy recipe, we're adding some flavor to your typical baked chicken—using citrus and apple cider vinegar to create the tangy coleslaw. We also use a variety of spices and seasonings to coat the chicken.
In order to reduce some of the risk you face for heart disease and stroke, remember these things two things for a balanced diet: eat less saturated and trans fats by substituting polyunsaturated fats. Also introduce more fruits and vegetables and limit salty foods.
"These dishes were designed with your heart health in mind. Each recipe will help you increase your vegetable and fruit intake, while also highlighting different whole grains and lean protein choices." – Amanda Markie, MS, RDN, LD Clinical Dietician
The most beneficial way to reduce your cardiovascular risk is combining these dietary habits with regular physical activity and maintaining a healthy weight.
Baked Chicken Breast
Ingredients:
4, 3-ounce chicken breasts
½ teaspoon black pepper (or to taste)
½ teaspoon garlic powder
½ teaspoon onion Powder
½ teaspoon paprika
1 tablespoon olive oil or avocado oil
Directions:
Wash chicken breast.
Preheat oven to 450°F.
Place chicken breasts in a large baking dish and brush or rub both sides of the chicken with olive oil.
In a small bowl mix together seasonings (pepper, garlic powder, onion powder, paprika) until combined. Sprinkle mixture evenly over the chicken on both sides.
Bake chicken breasts for 15-18 minutes, or until chicken is cooked through and no longer pink. A meat thermometer can also be used to check doneness and when putting the thermometer into the thickest part of the breast- temperature should be 165°F.
When chicken is cooked you may remove it from the pan and place it on a plate. Tent chicken with aluminum foil and let rest for 5-10 minutes.
Tangy Coleslaw (yields 6, 1-cup portions)
Ingredients:
¼ medium green cabbage- cored and thinly sliced (should yield about 4 cups)
¼ medium red onion, peeled and thinly sliced (should yield about ¼ cup)
¾ cup shredded carrots
¼ cup chopped cilantro
½ cup jicama, peeled and chopped to matchstick size (1/8 of a medium size jicama)
­­­­­­­­dressing
Dressing Ingredients:
­­­­­­­­¼ cup apple cider vinegar
1 tablespoon agave
Juice of 1 lime
Black pepper to taste
1 ½ teaspoon cumin
1 teaspoon garlic powder
¼ cup olive oil
Directions:
Wash cabbage and shredded carrots. Dry on wash towel or paper towels.
Cut cabbage into thin slices (remove bottom, cut out core, cut in half and begin making thin slices into cabbage head).
Peel, then slice red onion thinly (dice if desired). Chop cilantro. Peel and chop jicama into matchstick size pieces.
Toss together slaw ingredients in a large bowl (cabbage, carrots, onions, jicama and cilantro).
In a small mixing bowl, or using a mason jar, whisk/shake together dressing ingredients until well mixed (apple cider vinegar, lime juice, agave, garlic powder, black pepper and ground cumin).
Pico de Gallo Salsa (yields 4 to 5, ¼-cup portions)
This classic Pico de Gallo recipe will not only incorporate more fruits and veggies to this dish, but also create a light and fresh topping for chicken and coleslaw.
Ingredients:
2 Roma tomatoes
¼ cup diced red onion
1/3 cup chopped cilantro
½ jalapeño pepper (or less to taste)
Juice of 1 lime
Sprinkle of garlic powder or use 1 teaspoon minced garlic
Black pepper to taste
Directions:
Wash tomatoes, jalapeños, and cilantro. Remove skin from red onion.
Slice tomatoes in half (hot dog style) and using a spoon remove the guts of the tomatoes. These can be discarded. Then dice tomatoes.
Place these is a medium bowl.
Remove cap of the jalapeno and take out seeds and most of the white membrane. Dice the jalapeños very finely. Place jalapeño into the same bowl as the tomatoes.
Dice the red onion to a size similar to the tomatoes. Place onions into the mixing bowl.
Slice lime in half and squeeze lime juice from half of a lime at a time into the bowl. Sprinkle with garlic powder and black pepper to taste/if desired.
If you're interested in getting a jump start on your heart healthy diet plan, you can attend a free cooking class and learn how to incorporate foods that are good for your heart. Register for our heart healthy cooking class for other delicious recipes, such as this one.
Register for a Heart Healthy Cooking Class
---
Story Credit:  https://healthcare.utah.edu/healthfeed/postings/2020/05/baked-chicken-recipe.php
---
To help SafeBeat provide preventative heart screenings to as many students as possible, please DONATE.
Click here to SUBSCRIBE to SafeBeat's newsletters.