Exposure Prevention and Heart Health during Cold Weather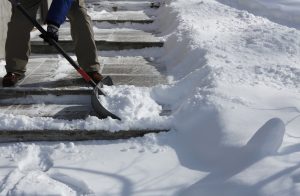 During extreme cold temperatures, it is important to limit your time outside. If venturing outside or traveling is essential, we recommend the following tips to help you prepare:
Pack an emergency kit and keep it in your car in case of a breakdown, or bring it along if you are planning to spend time outdoors, so you are prepared for cold, wet or windy weather conditions that might arise.
Head for shelter that will protect you from wind and rain if you get wet or cold.
Avoid doing too much activity and sweating. Sweating increases heat loss through evaporation so you will feel cold.
Eat plenty of food to help maintain your body heat. Carry high-calorie foods, such as candy bars and trail mix, when going out in cold weather.
Drink plenty of water. Carry extra water with you and drink it hourly.
Do not drink alcoholic beverages. Alcohol interferes with the body's ability to regulate body temperature. It can cause blood vessels in the skin to dilate, which increases heat loss.
Keep your hands and feet dry. Wear mittens instead of gloves. Wear socks that retain warmth and keep moisture away from your skin.
Wear loose fitting, layered, lightweight clothing. Outer clothing made of tightly woven, water-repellent material is best for wind protection. Wool, silk or polypropylene inner layers hold more body heat than cotton does.
During cold-weather months, keep a full tank of gas and put emergency supplies in your car in case you get stranded. Supplies may include several blankets, matches, candles and some food items, such as granola bars or crackers. A cell phone with a full battery and a charger are essential. If your car is stuck in a snow bank, be careful about leaving the engine running, because infiltration of carbon monoxide inside the car may pose a silent danger.
Cold weather can affect your heart's health
Cold weather is hard on the heart. Blood vessels constrict, which can raise blood pressure and blood can also clot more readily. Frigid temperatures can increase the strain on the heart, and too much physical exertion can trigger a heart attack.
Pile on the layers. Dress warmly and try to avoid exposure to very cold temperatures.
Use good judgement when you're outside in the elements. Push snow, don't life it. Don't throw snow over your shoulder or to the side. If you have to lift snow, use the stronger leg muscles for support, not your back. Wear boots and the proper equipment.
Avoid overexertion and consumption of excess salt and alcohol.
If you feel chest pain or other symptoms, call 911 for emergency help. The quicker you seek treatment, the better chance of your survival.
---
Story Credit: http://www.mercyhealthnews.com/2019/01/30/exposure-prevention-and-heart-health-during-cold-weather/
---
Since you're here, we have a small favor to ask. Requests from schools and districts for our screening services are growing, which means that the need for funds to cover the cost of those services is also growing. We want to make our services available to those who request it and beyond, so you can see why we need your help. Safebeat heart screenings take a lot of time, money, and hard work to produce but we do it because we understand the value of a child's life, PRICELESS!
If everyone who reads this likes it and helps fund it, our future would be more secure. For as little as $1, you can support Safebeat and it only takes a minute. Make a contribution. -The SafeBeat Team