Heart Health | Grilled Swordfish with Ratatouille Vegetables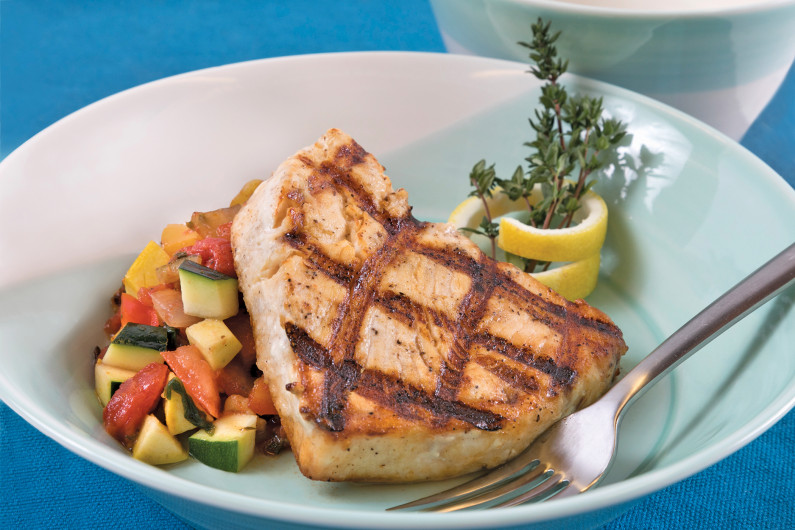 February is Heart Health Month and Chef Jason Giles, Executive Chef and Manager of Nutrition Services at Salinas Valley Memorial Healthcare System is sharing some of his favorite heart-healthy recipes each week of the month.
Grilled Swordfish with Ratatouille Vegetables
Serves 4
SWORDFISH
4 4-ounce swordfish steaks
Fresh ground black pepper
Pinch kosher salt
1 teaspoon olive oil
DIRECTIONS
Brush fish with olive oil and sprinkle with salt and fresh cracked pepper. Grilling is the preferred cooking method, but it can be baked as well. Grill for about 3 minutes on each side, taking into consideration the thickness of the fish steak. The thicker it is, the longer it will take on each side. To bake, cook at 375°F for about 15 minutes. When cooked completely fish will be firm but still moist.
RATATOUILLE VEGETABLES
2 Roma tomatoes, diced to 1/2 inch
1 crook neck squash, diced 1/2 inch
1 green zucchini, diced 1/2 inch
1/2 red onion, diced 1/2 inch
1 yellow bell pepper, diced 1/2 inch
1 red bell pepper, diced 1/2 inch
2 cloves garlic, minced
4 fresh basil leaves, chopped
1 cup cooked, diced tomatoes in puree (canned works best)
3 teaspoons olive oil
DIRECTIONS
Heat oil in a large sauté pan over medium heat. Add onions and cook for 4 minutes or until tender. Add red and yellow bell peppers and cook for about 2 minutes, then add garlic and stir. Next, add squash, zucchini and fresh tomatoes. Cook vegetables for about 5 minutes, then add the cooked tomatoes, stirring until well combined. Add basil. Taste vegetables and season as desired with kosher salt and fresh pepper. Cook for 5-10 minutes, checking tenderness of the squash. When done to your liking, remove from the heat and serve warm.
Nutrition Facts: 250 calories; Fat 10g; Sat Fat 2.1g; Sodium 120mg; Carb 14g; Fiber 3g; Protein 19g
Chef Jason Giles as the Executive Chef and Manager of Nutrition Services at Salinas Valley Memorial Healthcare System. Chef Jason has an extensive resume in the hospitality industry including some of the finest restaurants and resorts on the Monterey Peninsula. The American Culinary Federation Monterey Bay Chapter honored Giles with the 2016 prestigious Chef of the Year award. He is now changing the face – and taste – of traditional hospital food. He enjoys cooking with fresh, healthy ingredients and is pleased to share some of his heart healthy recipes with you.
---
Story Credit: https://www.montereyherald.com/2019/02/19/heart-health-grilled-swordfish-with-ratatouille-vegetables/
---
Since you're here, we have a small favor to ask. Requests from schools and districts for our screening services are growing, which means that the need for funds to cover the cost of those services is also growing. We want to make our services available to those who request it and beyond, so you can see why we need your help. Safebeat heart screenings take a lot of time, money, and hard work to produce but we do it because we understand the value of a child's life, PRICELESS!
If everyone who reads this likes it and helps fund it, our future would be more secure. For as little as $1, you can support Safebeat and it only takes a minute. Make a contribution. -The SafeBeat Team