Cooking for Heart Health Month: Greek Village Salad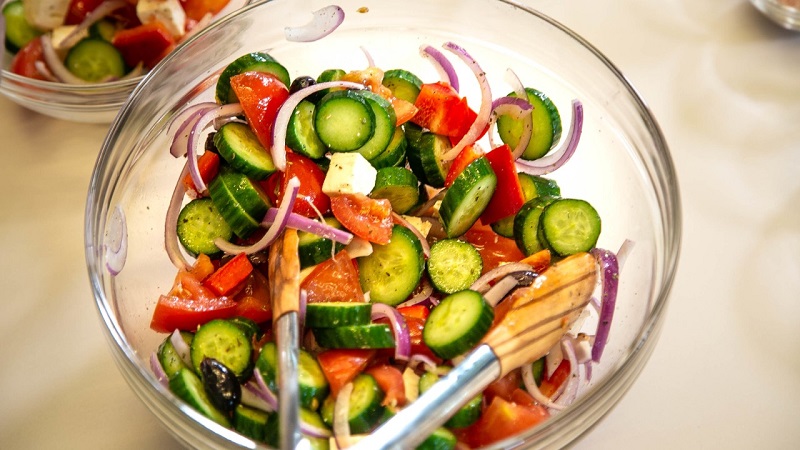 There's still time to cook for Heart Health Month this February, and it doesn't take a lot of time to work the Mediterranean Diet onto the table.
Greek Village Salad is the perfect example of something quick, easy, and heart-healthy to consider.
Whether you're entertaining a group or eating for two, here's how to whip up the delicious dish:
Serves two to three as side dish, one to two as main dish
3-4 medium tomatoes – cut into wedges then cut in half
4-5 cucumbers preferably Persian variety, cut into small round pieces (leave skin on if they are Organic)
½ small red onion sliced into thin slivers
8 Kalamata Olives (optional)
6 ounces feta cheese cut into cubes
½ red bell pepper, remove seeds and cut into wedges and then halve
2 TBSP EVOO, plus more for drizzling
1 TBSP of Apple Cider Vinegar (ACV)
Pinch of dried oregano
Salt and Freshly ground pepper to taste
STEPS: Cut and place tomatoes in a medium sized salad bowl and sprinkle a little salt over them and give them a good toss so they can start to release liquid.
Cut and place Cucumber, Onion, Bell Pepper and Feta in the bowl with the tomatoes
Add 2 TBSP EVOO as well the ACV and give it a good toss. Season with fresh ground pepper, a little more olive oil and salt to your liking
Top the salad with the Kalamata olives and a pinch of Oregano
Serve with a slice of toasted whole grain rustic country bread. It is great for dipping in the salad dressing and enjoying! This can be a meal unto itself or accompanied by a piece of grilled fish or chicken for added protein.
---
Story Credit: https://www.10news.com/lifestyle/exploring-san-diego/cooking-for-heart-health-month-greek-village-salad
---
Since you're here, we have a small favor to ask. Requests from schools and districts for our screening services are growing, which means that the need for funds to cover the cost of those services is also growing. We want to make our services available to those who request it and beyond, so you can see why we need your help. Safebeat heart screenings take a lot of time, money, and hard work to produce but we do it because we understand the value of a child's life, PRICELESS!
If everyone who reads this likes it and helps fund it, our future would be more secure. For as little as $1, you can support Safebeat and it only takes a minute. Make a contribution. -The SafeBeat Team