Greek Medical Study: Breakfast And Small, Frequent Meals Are Heart Healthy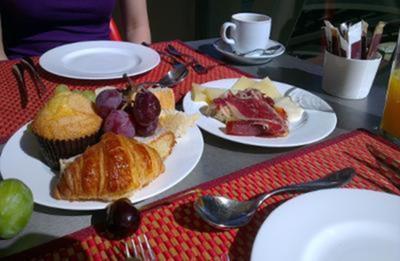 The importance of breakfast and diet for a healthy heart and circulatory system, but also the impact of socioeconomic factors, psychological health and exercise, were revealed by the clinical study "Korinthia" carried out by a large group of Greek cardiologists and other specialists. The initial findings of the study are due to be unveiled at the 13th International Cardiovascular Medicine Conference "Cardio Athena 2017" that will be held in Athens on March 10-11.
Those that regularly take breakfast present with a smaller incidence of peripheral vascular disease and atherosclerosis, while those eating small and frequent meals present a series of favourable cardiovascular factors, such as better heart function, a lower percentage of atheromatosis with minimal degeneration of the carotid arteries and a significant reduction of cardiovascular events.
Coffee was revealed as another protective factor, with those reporting the consumption of three or more coffees a day having reduced extent of atheromatosis in their carotid arteries.
Socioeconomic status and state of mind were also shown to play a role in heart health, with factors such as low income, poor family status, low education level or a history of depression correlating with a higher incidence of cardiovascular disease.
Serious repercussions on overall health
The positive effects of exercise were also confirmed by the study, which showed that elderly patients with a higher degree of physical activity in their daily lives had a reduced incidence of atrial fibrillation, a common complaint among the elderly with potential serious repercussions on overall health.
The study was carried out on more than 1,700 volunteers from various areas of Corinth with the aim of linking environmental and lifestyle factors with the incidence of chronic ailments such as heart disease, respiratory diseases and various forms of cancer.
Corinth was chosen because it includes mountainous, semi-mountainous and coastal areas with different exposures to various environmental factors. The participants were asked to provide blood samples to measure biochemical markers and indicators linked to atherosclerosis and the progression of heart disease. They also underwent a medical examination, an electrocardiogram, examination of their carotid arteries, heart ultrasound and measurements linked to atherosclerosis. Researchers also examined a series of demographic and lifestyle traits.
The study was led by Prof. Dimitris Tousoulis, who heads the National and Kapodistrian University of Athens 1st University Cardiological Clinic. The Cardio Athens 2017 conference is organised by the Athens University Clinic, in collaboration with the Arrhythmia Institute and the Foundation for Cardiovascular Research and Education "Kardia".
---
Story Credit: http://www.tornosnews.gr/en/greek-news/society/23759-greek-medical-study-breakfast-and-small-frequent-meals-are-heart-healthy.html