Fruit Juices: How To Use Correctly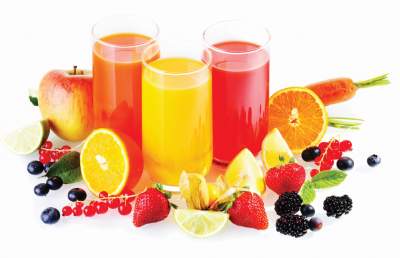 Popularity of a healthy lifestyle, which is becoming more and more diverse thanks to the emergence of new trends, continues to grow this year.
One of the most common trends currently is the intake of fresh juices. It started a few years ago, this trend has won the love of thousands of people. Increasingly, we notice a green juices in the hands of famous people-followers of a healthy lifestyle. This actors Blake lively and Colin Farrell, the UFC fighter Jon Jones, a well known professional mind sports Daniel Negreanu and even the whole baseball team (the Washington Wizards, USA). So, maybe we should follow their example?
According to research, a diet rich in fruits and vegetables, is essential for healthy weight control, and may even reduce the chances of development of serious diseases such as cancer and heart disease. Despite this, some people, especially athletes who require more energy than the average person, struggling to comply with recommended daily serving. One of the ways of consumption of several servings of fruits and vegetables in one go – it's Sookie. It is not surprising that athletes around the world include them in your fitness program.
However, the use of fresh juice is not as simple as it seems. Here is what the experts on nutrition.
Avoid fruit juices. Fruits contain too much sugar, which can create a heavy burden on the hormonal system. The rise in energy levels very soon will be replaced by an energy crash. Fruit juice contributes to the rapid accumulation of fat as the body stores excess sugar in the liver and fat cells. If you suffer from diabetes or are struggling with your levels of insulin, it is especially dangerous juicy ripe fruit.
Drink the juice immediately. Have you ever cut the Apple in half and leave it on for 15 minutes? Turns brown, right? This reaction is called oxidation, as the fruit reacts with the oxygen. Changing the texture and integrity, having lost the protective shell, fruits and vegetables quickly begin to lose nutrients. So when you squeeze the juice, drink it as fast as possible to make sure that all the nutrients get into your body.
Drink juices as a Supplement diets, not replace their meals. Nutritionists largely agree that the juice can give a low-fat, nutrient-rich jolt of energy when added to already healthy balanced diet. But should you follow the trend and drink juice for weight loss through the so-called cleansing of the body?
It is better to avoid this method party. The juice is quickly digested and may lead to the type of extreme hunger, which, in turn, leads to overeating. "Drinking juice instead of eating is not healthy, regardless of how many nutrients it includes," says Marjorie Nolan Cohn, national representative of the Academy of nutrition and dietetics. Juice (or fasting on juices) can also lead to unstable blood sugar, headaches and dizziness.
Choose the right ingredients. Some vitamins are more easily absorbed in juice form, for example, vitamin C and b, while others, such as A, E, K, it is best to pass through the process of full digestion. And some vegetables such as tomatoes, actually provide more nutritional value cooked. With that in mind, here are the fruits and vegetables which will not regret it: leafy greens (spinach, leaf Kale, Swiss chard, Kale), kiwi, papaya, grapefruit, red pepper, broccoli, strawberries, oranges, asparagus and garlic.
Chery Calbom – author of the book "the Big book of juices and green smoothies" – also endorsed the parsley, lower blood pressure beets (in combination with carrots or apples to improve the taste), anti-inflammatory ginger root, cucumber and lemons. Avoid overly soft or delicate fruits such as bananas (if you need potassium, use half) and peaches which can make your juice too thick and mushy.
Find your ideal mix. Warning: vegetable juice is not likely to immediately knock you off your feet with its taste, so you'll have to experiment. Buy a variety of vegetables and fruits and play around with flavors. For example, start with two servings of greens, which can be bitter taste and balance some fruits. Then, experiment with proportions, adding Cayenne pepper or cinnamon as an extra flavoring if you want. Popular are combination of grapefruit, orange, Kale and cucumber and carrot-Apple-ginger mix. Don't worry, with time you will find your favorite juice.
---
Story Credit: http://micetimes.asia/fruit-juices-how-to-use-correctly/