Foods Good for Your Heart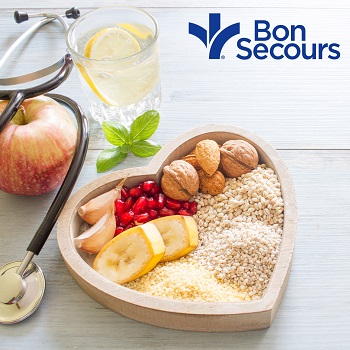 Protect your heart health by eating foods that are good for your heart! We have some tips for the types of foods you should choose, and some recipes to follow that use heart-healthy foods.
Eat leaner meats, such as poultry and fish instead of red meat like pork and beef.
Eat whole grains, like brown rice and whole wheat bread instead of other starches like potatoes and white rice.
Eat unsaturated fats like nuts, avocados, and olive oil instead of saturated fats like butter and full-fat dairy products.
Eat foods you prepare instead of processed foods to lower your sodium intake.
Eat fruits and veggies instead of snack foods like chips.
Spinach Salad with Fruit Flavors
Makes 6 servings
Ingredients
10 ounces chopped spinach
10 strawberries, chopped
10 oz. can mandarin oranges, drained and rinsed
½ cup unsalted sunflower seeds or slivered almonds
¼ cup fat-free raspberry vinaigrette
Directions
Toss ingredients together and serve.
All-in-One Meal
Makes 6 servings
Ingredients
3 boneless skinless chicken breasts, halved
2 cans French-style green beans
6-8 red potatoes, quartered
1 stick trans-fat-free margarine
1 packet of zesty Italian seasoning
Directions
Preheat oven to 375 degrees.
Season chicken breast halves to your taste. Place in middle of glass casserole dish facing down.
Drain most of the liquid out of the green beans, leaving about ½ can. Place along one side of the chicken.
Place quartered potatoes on the other side of the chicken.
Place margarine on top of vegetables. Sprinkle seasoning over all.
Cover with aluminum foil and bake for 45-60 minutes.
Slow Cooker Tacos
Makes 8 servings
Ingredients
1 pound cooked and chopped chicken breasts
3 cups finely chopped fresh tomatoes
2 cups fresh corn
2 cups low-sodium canned black beans
2 cups low-sodium canned red kidney beans
1 envelope ranch seasoning mix
2 tablespoons low-sodium taco seasoning
1 small onion, chopped
1 bell pepper, chopped
Directions
Place all ingredients in a slow cooker and cook on low for 4-6 hours.
Easy Banana Ice Cream
Makes 1 serving
Ingredients
1 very ripe medium-size banana
Directions
Peel the banana and cut it into chunks. Put the uncovered chunks on a plate or tray in a freezer and freeze for at least an hour.
When you are ready to serve, put the frozen pieces of banana in a blender or food processor and process until smooth, scraping down the sides as necessary. As the banana thaws slightly, the texture will become smooth and creamy.
---
Story Credit: https://bonsecours.com/richmond/about-us/blog/foods-good-for-your-heart
---
Since you're here, we have a small favor to ask. Requests from schools and districts for our screening services are growing, which means that the need for funds to cover the cost of those services is also growing. We want to make our services available to those who request it and beyond, so you can see why we need your help. Safebeat heart screenings take a lot of time, money, and hard work to produce but we do it because we understand the value of a child's life, PRICELESS!
If everyone who reads this likes it and helps fund it, our future would be more secure. For as little as $1, you can support Safebeat and it only takes a minute. Make a contribution. -The SafeBeat Team