Eating What They Watch and Watching What They Eat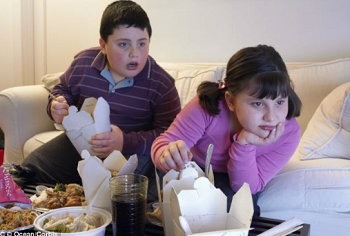 Screen time dangers. Much has been said about the consequences of spending too much time on "screens" – TV, computers, tablets and smart phones. We've heard a lot of horror stories about the dangers to adolescents and teens of smart phone obsession – texting and driving, social media bullying, sexting, online predators, and sleep disturbance, let alone the sedentary time that contributes to the diminishing overall fitness of our kids. Parents might be tempted to utter a sigh of relief that they don't have to deal with these dangers yet with their younger children and toddlers. If they nag you to buy them Lucky Charms cereal, that's nothing compared to texting and driving, right? Maybe not.
Health epidemic. The latest statistics say the rate of childhood obesity has tripled since the 1970s. The term "obese" is not a moral judgment; it's a clinical term for a condition that includes increased risk of chronic disease and morbidity. Obesity can harm nearly every system in a child's body – heart and lungs, muscles and bones, kidneys and digestive tract, as well as the hormones that control blood sugar and puberty.
It's easy to become obese in America. Besides the decreasing amount of physical activity in our lives (dwindling minutes of recess and P.E. in schools, adults sitting at desks all day), the unhealthiest foods are the tastiest, cheapest and largest-portion foods. Fast food places and convenience stores full of junk food are everywhere.
Relentless influence, relentless requests. Increasingly, public health experts agree that we are not consciously choosing to overeat. If you are wondering why your kids or grandkids are so relentless in their requests for junk food, and we crave half-pound burgers, we are all, especially kids, inundated through our "screens" with unhealthy food ads. Despite food companies agreeing to limit that type of marketing to kids, a major study from Cancer Research UK says even children who spend less than an hour a day online are still almost twice as likely to pester their parents for junk food. Additionally, the study found that kids who spent more than 3 hours a day on computers, tablets and smartphones were more than 4 times as likely to spend their own money on junk food as those with limited screen time.
What to do? Turn it off for a while. For harried parents and grandparents, it's hard not to use screens to keep the kids occupied and entertained, especially in bad weather. And who can always monitor where kids are spending their allowance? But there is a way to fight back – declare screen-free zones and hours, and get active as a family. An easy, cost-free way? Bundle up in layers and take a device-free family walk outside or walk inside at Gateway mall. A full mall loop is about 2/3 mile, or 1/2 mile if you avoid the food court. Gateway's Live 360° offers programming such as yoga classes, boutique studio demos and HIIT training for adults. Sports and games for children are also regularly scheduled.
---
Story Credit: https://journalstar.com/lifestyles/health-med-fit/eating-what-they-watch-and-watching-what-they-eat/article_adc224be-11a3-5474-8d06-820fc7ecab5a.html
---
Since you're here, we have a small favor to ask. Requests from schools and districts for our screening services are growing, which means that the need for funds to cover the cost of those services is also growing. We want to make our services available to those who request it and beyond, so you can see why we need your help. Safebeat heart screenings take a lot of time, money, and hard work to produce but we do it because we understand the value of a child's life, PRICELESS!
If everyone who reads this likes it and helps fund it, our future would be more secure. For as little as $1, you can support Safebeat and it only takes a minute. Make a contribution. -The SafeBeat Team